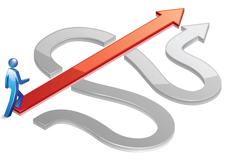 These are the key elements of success in the electrical contracting broker business today:
Excellent knowledge of a target market like Cuyahoga County, Ohio.
Optimum use of technology to ensure that the business is being productive, providing bids and estimates, purchasing and maintaining just in time inventory, and making sure
its receivables are being collected in a timely manner with very low bad debts.
Superb customer service from the beginning of the engagement to the end of the sale.
Both Andy and Jose have an excellent understanding of their target market given the more than 50 years of combined experience that they both bring to the table. While many electricians will only have a journeyman's license, both Andy and Jose actually have their master electrician licenses that allows them to supervise journeymen and apprentices on both residential and commercial sites. This is a major competitive plus for Lights On Electrical.
Andy and Joe will be using bidding and estimation software to accurately and efficiently provide estimates on jobs for which they are bidding directly on those jobs where they are brought in as sub-contractors. What a lot of smaller inexperienced electricians do not know is that a lot of time is wasted simply putting together estimates for jobs that never materialize into actual work. Andy and Jose will make the job of estimating and bidding on jobs easy for themselves by simply using software for this function. There are many bidding software solutions out there to choose from - Viewpoint MEP estimating, Acubid by Trimble, McCormick Estimating software etc. Each bid will ensure a level of profit for the firm.
Another key area that will be giving Lights On Electrical a competitive edge will be their excellent receivables management process. Here once again, both Andy and Jose are only too knowledgeable about the importance of knowing when and how much of their cash flow will be needed. Receivables management, payroll and accounting willalso be done with an integrated estimation, bidding and collection system.
Customer relationship management is a key aspect of building a steady clientele. Many electrical contractors are simply too busy to be able to follow up and ask their clients for referrals once a job has been done. Andy and Jose intend to follow up each job with a customer satisfaction card / call and ask their happy clients to provide them with a online and live referrals.
Email newsletters from Constant Contact will also make sure that they are able to remain in front of their clients and keep sending them valuable safety related information periodically. Daily logs for each client will be entered into the customer relationship management software. This kind of highly personalized relationship management is what excellent customer service is all about. Taking care of customers is a very big part of gaining a superb competitive edge in the electrical contractor business.
Quick Links:
Go to the Corresponding Questionnaire section for this industry.