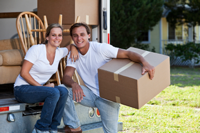 In order to conduct this analysis of the housing stock by the year in which the householder moved into the unit, we have divided up the housing stock into the following categories:
Moved in 1969 or earlier
Moved in 1970 to 1979
Moved in 1980 to 1989
Moved in 1990 to 1989
Moved in 2000 to 2004
Moved in 2005 or later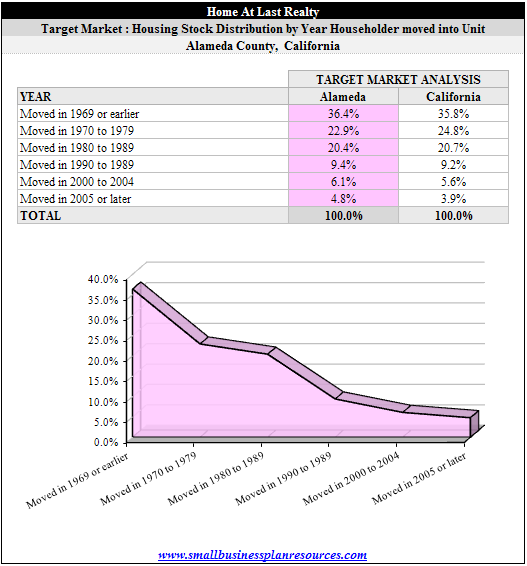 We lumping up the three categories we find that in Alameda County, 79.7% of householders had moved into their homes before 1989 as compared to 81.3% for the state of California. This of course is an important piece of information since folks who tend to have been in their homes for long periods of time, tend to be older and also on balance tend to have lower mortgages since they have been paying off their loans for longer periods of time as compared to folks who have moved in more recently.
In times when it is very hard to get financing, and many new homeowners who bought their homes at the top end of a market boom, may find that they are upside down on their mortgages in that they owe more money on their mortgages to the bank than the value of their homes. These conditions make it very hard for folks to sell and move even if they want to and it makes business very difficult for real estate offices like Home At Last Realty. Thus it is indeed heartening to see that a large percentage of folks in Alameda County have moved into their homes before 1989 and have thus been there for a long time implying that they most probably have smaller mortgages outstanding since as folks age they tend to pay their mortgages down.
When we lump together the last two categories of this table, we find that 10.9% of folks moved into their homes after the year 2000 in Alameda County compared to 9.5% for the State of California. This shows that while the total percentage of folks moving into their homes after 2000 in the target market is slightly higher than the statewide average, it is not higher by a very large margin and again boding well for a real estate office like Home At Last Realty.
Quick Links:
Go to the Corresponding Template section for this industry.
Go to the Corresponding Questionnaire section for this industry.