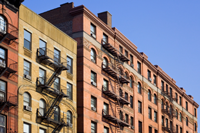 In order to get a clear understanding of the distribution of housing stock we have broken down the housing stock into the following categories:
1-unit detached
1-unit attached
2 units
3 or 4 units
5 to 9 units
10 to 19 units
20 or more units
Mobile home
Boat, RV, van etc.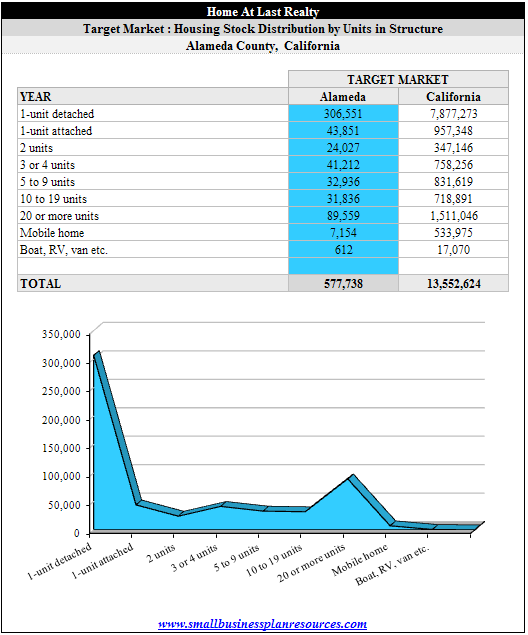 The housing stock distribution analysis for Alameda County shows not surprisingly that a little more than half or 53% of the housing stock for the County is in single family homes also classified as 1-unit detached housing. Likewise when we look at the 1-unit detached housing stock for the state of California, that number is only 58%. When we combine 1-unit attached, 2 unit, 3 or 4 unit housing together we find out that they represent almost 19% of the total housing stock for Alameda County compared to 15% for the State of California. All this of course has tremendous implications for a real estate office like Home At Last Realty - multi family units are much harder to sell and find buyers for, as compared to the traditional single family homes. Both Jose and Diana bring valuable experience to the table that will help them market themselves much more effectively to their clientele for multi family homes.
We find a similar reading when we combine homes between the 5 unit to 20 or more unit categories. Alameda County has almost 21% of its total housing stock in homes between 5 to 20 plus units as compared to only 16 for the State of California. This is not insignificant. It is hard to find financing for homes that are more than 5 units since they are classified as commercial real estate by most lenders and the criteria for pricing, valuation and selling commercial real estate property financing are much more demanding and complex than say the typical residential financing. It takes considerable skill for a realtor to understand the vagaries of demand and supply for multiple unit properties and both Jose and Diana would intend to slowly but surely increase the understanding of these multiple unit commercial properties.
Quick Links:
Go to the Corresponding Template section for this industry.
Go to the Corresponding Questionnaire section for this industry.