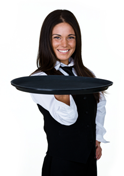 A Touch of Tuscany will offer its clientele old world home style Italian cooking. We will be open for lunch from 11:00 am to 3:00 pm and will for dinner
from 5:00 pm to 10:00 pm on weekdays from 5:00 pm to 11:00 pm on weekends as is the custom in the county of Westchester, NY. Our lunch menu will be focused
on the office and work crowd and will contain a variety of appetizers, salads, pastas, chicken, veal and seafood dishes along with a potpourri of grilled
pizzas and sandwiches. Our dinner menu will be focused more on the traditional dinner patrons of Westchester, NY and we anticipate that our evenings from
Thursday through Sunday will be much busier than our evenings from Monday thru Wednesday as is the experience of most full service restaurants.
Quick Links:
Go to the Corresponding Questionnaire section for this industry.