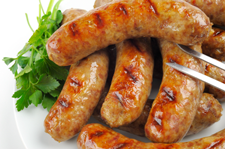 Our lunch menu will have appetizers like portabello balsamic, fried calamari, baked clams, mozzarella sticks, eggplant rollentine, shrimp cocktail at an average price of $7.95. Salads on the lunch menu will be roughly $7.95 and pastas will be around $11.95. Some of the pastas that we will offer at lunch will be cheese ravioli, lasagna, baked ziti, penne vodka, penne broccoli, fettucine alfredo, linguini and others. While we will offer items from the grill like sirloin steaks and grilled chicken our chicken and veal selection will run around $11.95 on average with items like chicken capriciossa, chicken parmigiana, chicken marsala, veal pizzaiola and veal sorrentino amongst others. Sea foods on the lunch menu will be sea scallops, filet of sole, shrimp provenciale, shrimp calamari amongst others and they will run around $12.95 on average. Grilled Pizzas at about $9.95 and sandwiches for about $7.95 will round up the lunch menu. We feel that with this lunch menu we will be able to offer something for everybody.
Our Dinner menu will have the classic traditional Italian offerings. Under Antipasto (hors-d'oeuvre), we will have gamberi freschi (jumbo shrimp cocktail), vongole oreganata (baked clams), carpaccio alla parmigiana (filet mignon, parmesan capers in olive oil), vongole al vapore (steamed clams) amongst others. The average price for our antipasto offerings will be approximately $8.95. Insalata (Salads) featured on the dinner menu will be arugula (roasted peppers), bietola (beets and goat cheese), pomodori (garden tomatoes, olives, onions and basil) and a few others salads at an average price of $6.95. Pastas for dinner will include cavatelli con rapini (broccoli rabe in garlic oil), ravioli di giorno (a daily special), linguini con vongole (baby clams over pasta), lasagna di casa (our house baked lasagna) and others. Pastas for dinner will run $ 15.95 on average.
Our pollo (chicken) offerings for dinner will include pollo marsala (chicken sautéed with mushrooms and garlic), pollo scappariello (chicken sautéed with peppers, onions, mushrooms), pollo parmigiana (chicken cooked with herbed bread crumbs, mozzarella cheese and tomato sauce and other such chicken delicacies at around $19.95 each. Peche (fish) at A Touch of Tuscany will always be a house favorite featuring salmone siciliano (salmon sautéed with dried tomatoes, artichokes and white wine), gamberi fritti o alla parmigiana (fried shrimp with tomato sauce and melted mozzarella), frutti di marre (calamari, shrimps, mussels clams over a bed of linguine) and other peche specialties for approximately $19.95 on average.
Vitello (veal) and Carne (steak) offerings will also be prominent in our dinner offerings featuring dishes like medaglioni all amignonette (veal scallopine, eggplant, sautéed in lite brown sauce), tagliata di manzo (grilled prime rib), filetto al Barolo (filet mignon), agnello con peperonata (Australian lamb chop sautéed peppers and potatoes). Our veal and steaks dishes will cost around $21.95 each. A good desert menu will also be available offering the usual delights but including some Italian specialties like canoli's.
Quick Links:
Go to the Corresponding Questionnaire section for this industry.