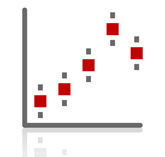 Market conditions and sales projections for the second year Spotless Homes is in business:
When projecting sales for the second year of business for Spotless Homes, we decided to make sure that we take in three distinct market conditions for our business. The first is a slow market condition that is typically characterized by a sluggish economy. Second is a good market conditions that reflects a typical average market for the cleaning service business and finally is the great market conditions that is reflective of a booming economy where business is coming in from everywhere and business owners like Anthony, Christine and Sofia and just trying to keep up with all the work that is pouring in.
Sales seasonality - how much will sales fluctuate during the year for Spotless Homes Inc.
Spotless Homes is located in Cobb county, Georgia. As most folks know, the cleaning business tends to very slow during the summer vacation months when families are busy with vacation and travel plans. While there is little doubt that homes probably need even more cleaning services with kids out of school, the reality is that many families are simply not around during July and August and these tend to be slowest months for the cleaning services business. With this in mind we are anticipating that sales seasonality will follow a pattern of roughly 29% of revenues coming in the first quarter, 24% of revenues in the second quarter of the year, only 15% during quarter three that includes the summer months and finally 32% during the fourth quarter.
Sales projections for the second year for Spotless Homes:
Thus we are projecting that for the second year in a good market condition we will probably be able to get to $300,000 in sales with approximately 2,222 customer transactions each generating about $135 in revenues. In the event the market for house cleaning services were to slow down, we are projecting that we will be able to process 1,667 sales transactions for the second year that will bring in a total of $225,000. Also in the event we have a boom in the local and larger economy and we wind up with a great market condition, we project that Spotless Homes will be able to take in approximately $360,000 having served its customers with 2,667 house cleanings during our second year of operations.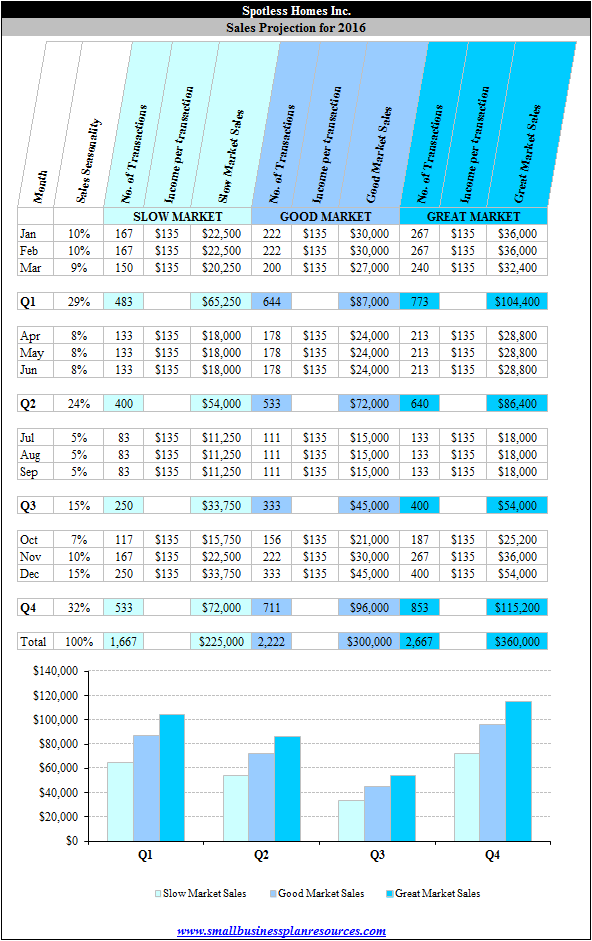 Revenues from small business offices:
Just like the first year Anthony, Christine and Sofia are including some revenues from cleaning small business offices in the total sales projections. While typically each job pays differently depending on the size of the project, when projecting sales we have added the total revenues anticipated for each quarter and divided that up by the total number of jobs irrespective of where the revenues will be coming from.
Quick Links:
Go to the Corresponding Template section for this industry.
Go to the Corresponding Questionnaire section for this industry.