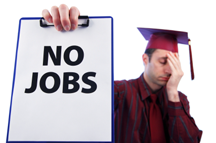 When we examine the unemployment rate and total labor force for the target market of Mecklenburg County, the following items are worth mentioning:
The labor force within in Mecklenburg County has been growing steadily between the 2 decades of 1997 to 2016. This of course matches up with the increase in the size of the population and civilian labor force numbers look at at in earlier sections. With a exception of a very brief period during 2010, there has been a steady rise in the number of folks in the labor force which in 1997 was only 358,119 people in January 1998 and has risen to be 575,117 by May 2016.
The unemployment rate for this growing labor force has also shown some dramatic changes during this time period. In the nineties the unemployment rate was a spectacular 2% but it jumped up a lot between 2000 and 2002 as the country recovered from the bursting of the dot com bubble. Between 2003 and 2007 the unemployment rate fell rather nicely all the way down to 4%.
However after the onset of the great recession in 2008, there was a massive rise in unemployment which shot up all the way to 11% in January 2011 before diving right back down to the low 4% range by May 2016.


Thus what we see here is a labor market that has grown substantially, but along with that growth has come wide fluctuations in the unemployment rate as businesses are able to dip into a much larger pool of workers to choose from given the increase in the labor force and overall net increase in the population.
Folks who are unemployed tend not to spend money on Plumbing and Heating contracting services while focusing on the bare necessities. Thus both Felix and Michael will have to keep an ear open for changes in the local unemployment rates and ensure that their business has built out enough of a cash cushion to ride out the tougher slower economic times which will invariably show up in Mecklenburg County.
Quick Links:
Go to the Corresponding Template section for this industry.
Go to the Corresponding Questionnaire section for this industry.