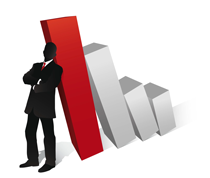 Felix and Michael of Central Plumbing and Heating are calculating the breakeven point in terms of the number of customer transactions it will take for them to cover the fixed costs of operating their business. Here is how this is being arrived at:
Each operating expense for the year is listed and then the amount of that percentage that is fixed is allocated.
The only operating expense that is not taken into account for this calculation is depreciation since it is a non cash expense.
Thus the operating expense for 2015 without the depreciation comes up to be $199,287.
The fixed component of that expense comes up to be $78,440 or roughly 40%.
The average cost for the typical customer transaction is estimated to be $350
Since there is no cost of goods sold associated with the production of the service, we come up with a gross margin of 100%
The fixed operating expense divided by the $350 per transaction yields us a 224 transactions.
Thus we are estimating that Central Plumbing and Heating will have to have a minimum of 224 transactions in 2015 just to pay the bills and come out flat.
In our sales projections we are estimating that even in a slow market environment the firm will be able to accomplish the following in sales:
In 2015, if the market is slow, it is estimated that Central Plumbing and Heating will be able to successfully close on 604 transactions bringing in $214,500 in sales.
Likewise in 2016, given a slow market, the firm expects to serve 641 customers successfully thereby generating $243,750 in sales; and finally
In 2017, even in a slow market, it is expected that Central Plumbing and Heating will close 686 transactions generating $281,250 in sales.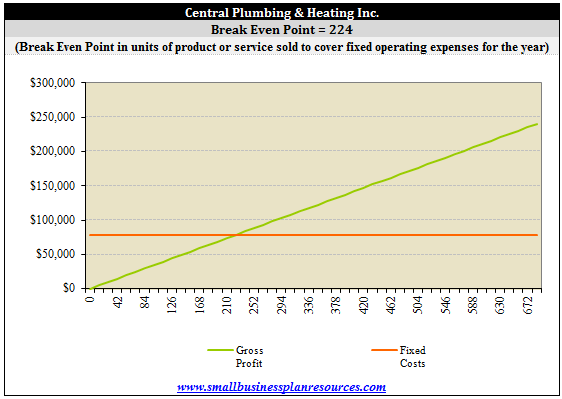 Thus we can say with confidence that Felix and Michael will be able to meet and exceed their break even points in each year and slowly but surely build a successful business in Mecklenburg County, North Carolina.
Quick Links:
Go to the Corresponding Template section for this industry.
Go to the Corresponding Questionnaire section for this industry.