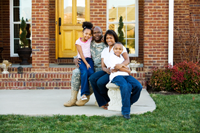 What is the benefit of having an Market Value of Owned Home by Consumer Unit Size Analysis in a business plan for Green Lawn Landscaping, Inc.?
The market value of owned home by consumer unit size analysis gives a small business owner like Frank Murphy as well as the reader of the plan some great insight into the distribution of the owned homes nationally when accounting for the number of homeowners that live in those homes. The number of homeowners living in a home together are called a consumer unit.
Thus a consumer unit consists of any of the following:
All members of a particular household who are related by blood, marriage, adoption or other legal arrangements.
A person living alone or sharing a household with others or living as a roomer in a private home or lodging house or in permanent living quarters in a hotel or motel, but who is financially independent; or
Two or more persons living together who use their incomes to make joint expenditure decisions.
The term consumer unit, family and household are often used interchangeably for convenience. However, the proper technical term
for the purposes of the Consumer Expenditure Survey is a consumer unit.
In order to conduct this analysis we break down the size of the consumer unit into the following categories:
The average market value of owned home by a 1 person consumer unit.
The average market value of owned home by a 2 person consumer unit.
The average market value of owned home by a 3 person consumer unit.
The average market value of owned home by a 4 person consumer unit.
The average market value of owned home by a 5+ person consumer unit.
What if the analysis shows that the market value of homes is the higest for homes with a 1 person unit size?
In the even the market value of owned homes by consumer unit size shows that the highest homes belong to households with just 1 person consumer unit, that it simply means that individuals and / or 1 person households may be the best target for a particular industry like say landscaping. Small businesses who are involved in that industry segment would do well to concentrate their limited marketing resources to focus on 1 person units. We are not suggesting that no attention be paid to the rest of the market place consisting of 2 or more person consumer units.
What segment of the target market you should focus on depends entirely on your strategic positioning. For example if you are a
real estate agent and your specialty is multi-family and mixed use properties, then it does not matter if the values of homes beloning to 1 person units have the highest value, you will still have to focus on your core competency that involves marketing to homes that have 5+ persons living in them. For you to change your strategy and now start pitching yourself as an expert in homes that have one 1 person units - most likely single family homes - could well be a very big mistake.
Does a change in the Market Value of an Owned Home by any one size of consuming unit have any significance for a business like Green Lawn Landscaping, Inc.?
Yes. In the event this result of this analysis were to show that the market value of homes with 5+ consumer units have actually increased a lot more in value in recent years when compared to the values of homes with fewer consumer units, it may actually indicate a subtle shift that needs to be better analyzed. Typically homes that can house 5 + consumer units tend to be large single family homes or multi-family homes. An increase in demand for these homes will of course result in higher value for such properties. What this could indicate is that more and more folks are choosing to live together resulting in the demand for such properties. Kids who have finished college may not be able to find jobs easily and come back to live with their folks - a phenomenon called the 'boomerang' effect. Further, folks who are retiring may not want to stay alone and choose to throw in their financial resources in tough economic times and form a larger inter-generational household - these used to be fairly prevalent in the many communities in the 1950's and 1960's.
All this of course has significant impact for small business owners like Frank Murphy. A mortgage broker may decide to learn more about how to successfully finance multi-family properites and sign up with specialty lenders and craft out a nice niche for their business. A realtor may decide likewise, that it is better to focus on the larger single family and multi family homes since there promises to be a steadier demand for such homes in the future and they tend to be of much higher value resulting in larger commissions.
Quick Links:
Go to the Corresponding Template section for this industry.
Go to the Corresponding Business Plan section for this industry.