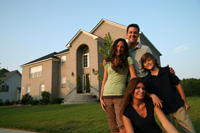 What is the significance of the Market Value of Owned Home by Occupation analysis for a business plan for Green Lawn Landscaping, Inc.?
The market value of owned home by occupation analysis gives the reader of the business plan as well as a small business owner like Frank Murphy a very clear picture into what national home values looks like when based on homeowner occupation. What is even more significant in this analysis is that it is conducted using data over a 10 year period and thus the changes and nuances in the annual home values can be observed easily.
The categories used to conduct this analysis on Market Value of Owned Home by Occupation are:
The national average market value of owned home by folks who are Self-Employed.
The national average market value of owned home by folks who are Wage and Salary earners.
The national average market value of owned home by Retired folks.
What if the analysis reveals that the Market Value of Owned Homes is the most by folks who are self-employed?
When conducting the annual market value of owned home by occupation analysis if you find that the folks who have the highest home values are those who are self-employed, it actually has very significant implications for you as a small business. It means that your prime target market is those folks who own their business or work for themselves as opposed to salary earners or retired folks. You are thus going to have to direct your marketing efforts to that segment of the target market and make sure you don't waste your marketing dollars spending on other segments.
While this may seem like a very intuitive and obvious piece of advice, we cannot reiterate how important it is to understand how this actually plays out in the real world of small business. If you offer home cleaning services, you obviously have to market to those folks who have the most disposable income and are the most likely to use your services - if self employed home owners are your target market, they may want to take advantage of your home and business offer, where you can give them a discount for your services for cleaning their offices if they were to give you their business for home cleaning.
What if you see a trend changing in a pattern of Market Value of Owned Home?
Trend identification is key with this analysis. Suppose when looknig at the market value of owned homes, you find that wage and salary earners have actually seen the values of their homes drop dispropotionately in the last 3 to 4 years when compared to the home values of the self-employed or retired, as opposed to an earlier trend for the first 5 years of the analysis, where their home values were actually increasing? Clearly this is a change and it may indicate that over the years, there has been real job loss and wage deflation for wage and salary earners and this has affected their ability to buy higher valued homes. Wage deflation has been a very real pheomenon for salary earners after the great recession of 2008 - if this phenomenon were to continue for a long period of time, it could even signal a decline in the wages, salaries and buying power of the entire middle class of our population!
A savvy small business owner like Frank Murphy, will have to adapt and make changes to their marketing plans. Thus if you were offering pest control services to neighborhoods that were full of homes owned by wage earners who had seen declines in market value, you may consider offering them a discount by partnering up another business like window treatments or a flooring contractor.
What if my product or service is being purchased by mostly Retired folks?
The aging of the baby boomers is a very real phenomenon and it is being carefully studied and analyzed by marketing professionals all over. It is well known that as the population of an economy ages, the need for goods and services changes and in the case of small businesses that change can be dramatic. Thus for example if you are in financial services sales and have been selling mutual funds and financial planning services to middle aged customers who are now retiring, you may instead have to start focusing your efforts on selling the annuities and long term health care insurance policies instead.
If you are in the food business and your target market is projected to progressively get older, you may have to move away from selling exclusively fast food and focus instead on healthier alternatives. Some small businesses have done very well providing home cooked meals to retired folks who don't like to cook for themselves - this kind of adaptation will be required by all kinds of small businesses and this analysis of annual consumer spending by occupation gives us some good insight into just that.
Quick Links:
Go to the Corresponding Template section for this industry.
Go to the Corresponding Business Plan section for this industry.