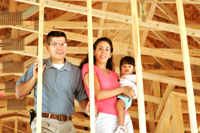 When trying to understand the distribution of the housing stock for Allegheny County based on the year it was built, we break the stock down into the following categories:
Built 1939 or earlier
Built 1940 to 1949
Built 1950 to 1959
Built 1960 to 1969
Built 1970 to 1979
Built 1980 to 1989
Built 1990 to 1999
Built 2000 to 2004
Built 2005 or later
When we look at the housing stock for the target market of Allegheny County and break it down by age, we find out the following:
Nearly 31% of the total using units in Allegheny County were built in 1939 or earlier as compared to only 27% for the State of Pennsylvania.51.2% of the total housing stock in Allegheny County was built between 1940 to 1979 - this compares to 44.9% for the State.Finally 17.9% of the total housing stock in Allegheny County was built after 1980 as compared to 28.2% for the entire State of Pennsylvania.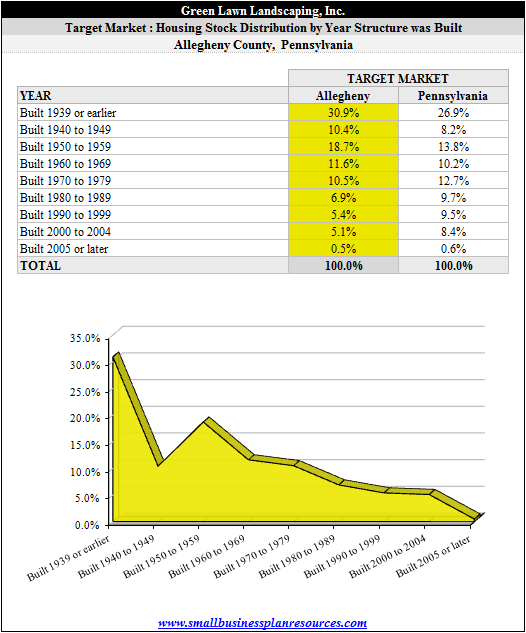 This analysis shows clearly that the housing stock of Allegheny County is older than the housing stock of the State of Pennsylvania. This of course does not have that much of a direct bearing on the core landscaping maintenance contracts offered by Green Lawn Landscaping. It does have some tangential opportunities that Frank and Peter may choose to exploit in the future - for example a older housing stock indicates that the homes are typically going to be in need of repair and upkeep - thus Frank and Peter could easily partner with electricians and plumbers to provide older homes with a free review and estimate of the things that need to be looked into and may require upkeep. Very often this may result in the electrical contractor or plumber getting some business, but it will certainly allow for Frank and Peter to get in front of clients and tell them about the services they provide.
Quick Links:
Go to the Corresponding Template section for this industry.
Go to the Corresponding Questionnaire section for this industry.