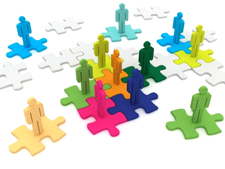 Frank and Peter of Green Lawn Landscaping know only too well that while they can provide excellent services to their core clientele, they will need to be able to diversify their revenue base and try and scale into larger landscape contracting jobs. Given that they are a small firm, their ability to bid and execute on large jobs involving office complexes will be limited. In order to make a roadway into this market segment, they will be forming strategic partnerships with other landscape contracting firms.
Their strategic arrangements with other firms can take the following forms.
Scenario 1: Where Green Lawn Landscaping partners with another similar small firm to aim for a contract that together the 2 firms should be able to handle but individually neither of them would be able to manage.
Scenario 2: Where Green Lawn Landscaping partners with a larger firm and works as a sub-contractor and is able to execute on part of the job in accordance with the agreed upon terms and conditions laid down by the larger firm.
Strategic alliances will also be kept in mind when we are looking to market their services in conjunction with other vendors that serve the same clients:
For Example Green Lawn Landscaping will be looking to partner with mortgage brokers to offer homeowners a free review and their lawn.
Green Lawn Landscaping will also be looking to partner with local retail nurseries to offer a discounted rate to homeowners who shop there.
Partnering with electrical contractors to offer prospective customers free reviews of the lawns is yet another way that Strategic alliances could work for us.
Quick Links:
Go to the Corresponding Questionnaire section for this industry.