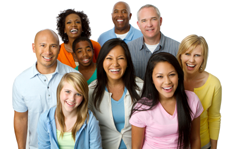 The race demographics analysis of the target market of Cuyahoga County when compared to the State of Ohio showed up with results that were surprising. When looking at the race demographics for the State of Ohio, we find that 83% of the population is classified as White and the remaining 17% are classified as Black, Asian or Other. However when we look at the County of Cuyahoga we find that only 64% of the population is White and 36% of the remaining folks in the County are minorities. This is a huge discrepancy and it can of course explained by the fact that Cuyahoga County includes the greater Cleveland metropolitan area which typically tends to have some of the large concentration of minorities. This is true of many other States as well, however the discrepancy in the case of Ohio is substantial.
This race demographic of course has tremendous implications for every business operating in the Cuyahoga County target market including Lights On Electrical. Folks of different ethnic backgrounds tend to have their own tastes and preferences. While this analysis does not indicate the number of folks in the Cuyahoga County claiming a Hispanic background, it certainly helps that Jose is able to speak, read and write Spanish fluently. We feel that being able to serve the Hispanic and minority community is a very significant advantage for a professional services firm like Lights On Electrical.
Another important factor of this analysis is folks classified as Black - in Cuyahoga Count that number is 30% compared to only 12% for the entire State of Ohio. We don't think that either race demographics have a direct impact on our business unless language comes into play - for example even those folks claiming Hispanic ancestry with different racial backgrounds (white, black or mixed), may not have a problem speaking fluent English. Being bi-lingual is simply an advantage that our business possesses in case the opportunity to use this advantage arises.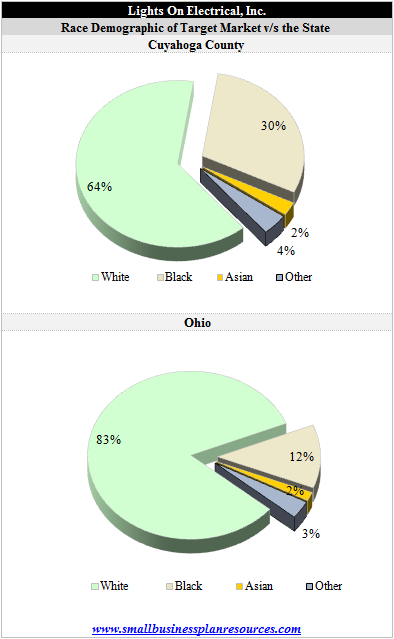 Quick Links:
Go to the Corresponding Template section for this industry.
Go to the Corresponding Questionnaire section for this industry.