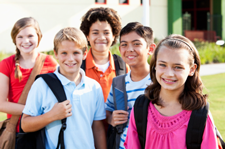 The education profile analysis of Cuyahoga County and the State of Ohio yields some interesting results. 28.7% of the population in Cuyahoga County has graduated from high school of obtained an equivalency when compared to 35.2% for the State of Ohio. Thus as far obtaining a basic high school graduation, the State of Ohio seems to have a better record than the target market of Cuyahoga County.
However when we examine higher educational achievements like Bachelors degree and Graduates or professional degrees, we find that in these two combined categories of higher education, Cuyahoga County leads the state with 30.8% compared to only 25.6% for the State of Ohio.
This there is a clear discrepancy between educational achievements at the high school and college and advanced degrees. It would seem that Cuyahoga county seems to havefewer kids graduating high school and yet a higher percentage of folks with advanced degrees. We think that this discrepancy can be explained the fact that Cuyahoga County includes the greater Cleveland metropolitan area. Children from families in inner cities who are struggling with poverty tend to drop out of high school a lot more than their suburban counterparts. However the same metropolitan area also tends to have a larger influx of office workers who come there for jobs that requiring advanced degrees. This of course results in the paradox that we see reflected in the statistics discussed here.
A total of 58.6% of Cuyahoga County residents have had at least some college, an associates degree, a bachelors or graduate degree. This is of course a good sign for a business like Lights On Electrical. Educated customers tend to have higher disposable income and with that are often able to pay for the maintenance and upkeep of their electrical fixtures and items that require the attention of electrical contractors like Andy and Jose.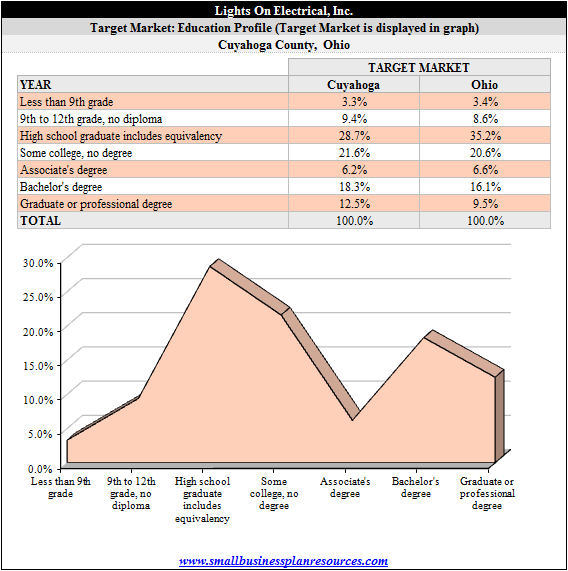 Quick Links:
Go to the Corresponding Template section for this industry.
Go to the Corresponding Questionnaire section for this industry.