In order to get a clear understanding of the distribution of housing stock for Cuyahoga County & the State of Ohio by number of rooms, we have broken down the housing stock into the following categories:
1 Room Units
2 Room Units
3 Room Units
4 Room Units
5 Room Units
6 Room Units
7 Room Units
8 Room Units
9 or more Room Units
The housing stock distribution analysis for Cuyahoga County shows not surprisingly that 65.6% of the housing stock for the County is in homes with 6 rooms or less. That number for the State of Ohio is 63.2% and is thus not that different. Homes with 6 rooms or less tend to comprise the vast amount of the housing stock since they imply homes with 3 bedrooms, a living room, kitchen and dining room. Homes of this size are often in demand and are easier to sell than homes that are smaller or larger. The demand for smaller homes tends to come from folks just starting out in their starter homes and the demand for larger homes tend to come from folks that have larger families and / or are affluent.
For electrical contractors like Andy and Jose, the fact that 59.3% of the entire housing stock in their target market has between 4 to 6 rooms is reflective of a averaged sized homes and apartments which is of course their target especially in the residential electrical contracting line of business.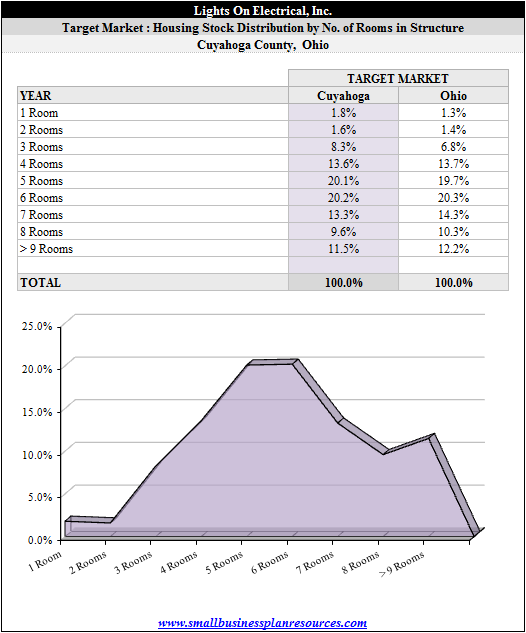 Quick Links:
Go to the Corresponding Template section for this industry.
Go to the Corresponding Questionnaire section for this industry.