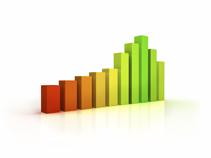 Market conditions and sales projections for the first year Lights On Electrical is in business:
When projecting sales for the first year of business for Lights On Electrical, we decided to make sure that we take in three distinct market conditions for our business. The first is a slow market condition that is typically characterized by a sluggish economy. Second is a good market conditions that reflects a typical average market for the electrical contractor business and finally is the great market conditions that is reflective of a booming economy where business is coming in from everywhere and folks like Andy and Jose are just trying to keep up with demand.
Sales seasonality - what can be expected by Andy and Jose as the busienss get underway:
Sales seasonality has to be factored into sales projects - we have found that the busiest months of the year tend to be October, November and December, followed by the slowest months of January, February and March. The second and third quarters of each year tend to be decent. We think that as the winter season gets going, a lot of folks decide to make upgrades to their heating systems and get ready for the cold months ahead. They are projecting that 50% of our sales will come from the busy fourth quarter followed by only 11% in the first quarter of each year. The second and third quarter of each year will yield us about 20% and 19% of our sales.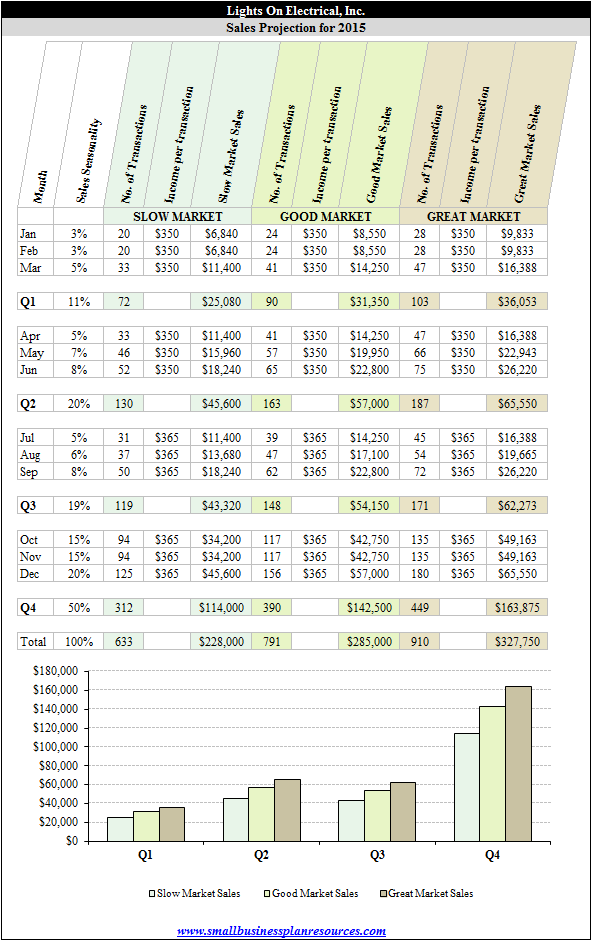 Sales projections for the first year for Lights On Electrical:
Thus the firm is projecting that for the first year in a good market condition we will probably be able to get to $285,000 in sales with approximately 780 customer transactions each generating about $360 in revenues. In the event the market for electrical contracting services were to slow down, we are projecting that we will be able to process 633 sales transactions for the first year that will bring in a total of $228,000. Also in the event we have a boom in the local and larger economy and we wind up with a great market condition, we project that Lights On Electrical will be able to take in approximately $327,750 having served its customers with 910 transactions during our first year of operations.
Quick Links:
Go to the Corresponding Template section for this industry.
Go to the Corresponding Questionnaire section for this industry.