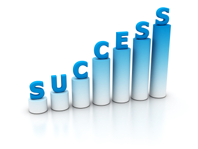 The Gross Profit Margin ratio is a very important profitability ratio used widely in all industries and businesses and it is very important to a small business owner like Jose because it gives him a very clear idea of what kind of cushion a small business has after it has paid for its cost of goods sold. This cushion is what determines the profitability of a company and the next item that is subtracted from the Gross Profit to get to the operating income is of course the operating expenses. Thus having a good Gross Profit Margin ratio is critical to all small businesses.
Since Home At Last Realty is a service business that does not have any cost of goods sold, the gross profit number is the same as the sales number for the firm. Thus in this case the gross margin is 100% for all the three years of 2012, 2013 and 2014 given that there is no cost of goods sold. It is important to understand however that if the firm were to partner with another real estate office on many sales, and had to pay out a certain percentage of the income to the other office, they would see a cost of goods sold. For example if Real Estate Funding Solutions were to close five complex home sales that were referred to them by ABC Home Solutions and the total sales from these transactions resulted in an income of $100,000 with the proceeds being split evenly between both firms. the cost of goods sold for Real Estate Funding Solutions would be $50,000 since it would be paying that amount to ABC Home Solutions.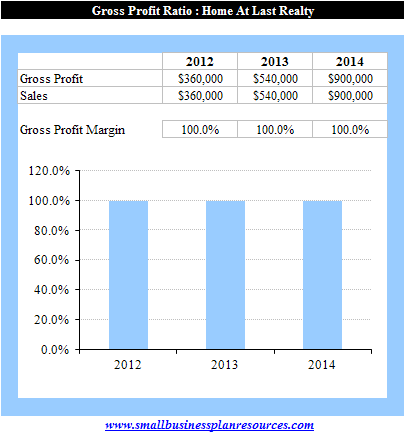 Quick Links:
Go to the Corresponding Template section for this industry.
Go to the Corresponding Questionnaire section for this industry.