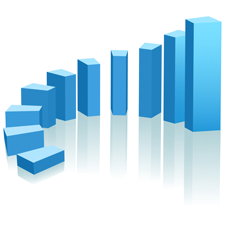 The Operating Profit Margin for a small business like Home At Last Realty is the operating income divided by the sales of the business. In the world small business the earnings before income and taxes is used as the operating income. This ratio computes how much money the business has left over to pay for the interest on its loans and taxes and it gives a small business owners like Jose and Dinah the ability to explain to the reader of the business plan just what kind of cushion the business has to pay its creditors.
In this analysis we can see that the operating margin is 4.2%, 6.1% and 6.9% of total sales which are projected to be $360k, $540k and $900k in the years 2012, 2013 and 2014 respectively. What this means in simple English is that of every dollar earned in 2012, 4.2 cents will towards the payment of interest and taxes and the remaining will be the net profit. These margins of course can be easily affected if costs were to increase resulting in higher operating expenses and therefore lowered operating profit ratios. Alternatively sales could come in higher than projected and that could improve these ratios if costs remained the same. Operating income is currently projected to be $14,965, $32,938 and $62,467 in the three coming years.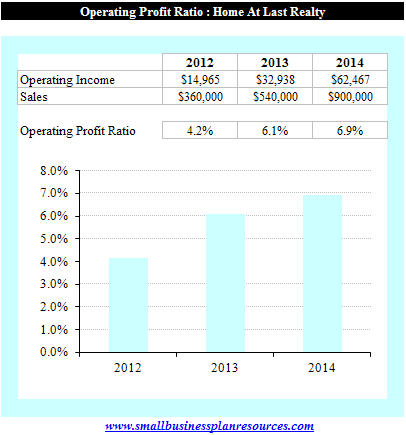 It is important to note that the operating profit margin is projected to reduce over the first three years because both the owners will begin taking larger salaries resulting in larger compensation costs which of course affect the operating income for the business. The thinking is that the first year is critical for the survival of a small business like Home At Last Realty, and this ratio will be slightly tighter than in other years given that the relatively real estate agents will not be contributing to the bottom line. As their sales skills mature, we anticipate that they will be making more sales resulting in higher compensation costs but also higher income for the business overall.
Quick Links:
Go to the Corresponding Template section for this industry.
Go to the Corresponding Questionnaire section for this industry.