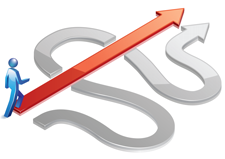 These are the key elements of success in the mortgage broker business today:
Excellent knowledge of a target market like Alameda County.
Optimum use of technology to ensure that the business is being productive and is originating, processing and closing loans in the most efficient manner possible.
Superb customer service from the beginning of the engagement to the end of the sale.
We believe that at Home At Last Realty we have these three elements down pat! The first and most important element for a real setae office is to have an excellent body of knowledge of the real estate inventory. Clients who come to the office looking for a home will have instant access to a description and summary of each of the major cities and towns in Alameda County along with summary sheets that highlight the housing inventory for each locality. Large computer monitors will give our realtors the ability to show photographs and videos of prospective homes to customers to elicit interest and narrow down choices. Each realtor will be able to provide prospective buyers with detailed knowledge of local schools, shops and other conveniences both verbally as well as using features like Google maps and other real estate tools available online.
Having terrific technology is critical to the success of a small business like Home At Last Realty. Increasingly buyers and sellers have become so adept at using the internet and available resources that they come armed with printouts of homes that they are interested in seeing. Likewise realtors are now able to send over links of homes and offer virtual tours of certain homes to their customers electronically. The spread of applications for smart phones now makes it possible for a customer to get a virtual tour of a home on their phone as they are on their way to see it physically. Also important for a real estate office if the technology that runs the operations of the office itself. Home At Last Realty will be maintaining a customer relationship management software called Top Producer that will allow them to track leads and maintain extensive notes and documents for each of their listings. Besides having productivity software like Microsoft Office, Agents will also be able to use Gotomeeting and online forums like Linkedin to harness their networks and get the word out to more professionals. Email newsletters from Constant Contact will assist the office by helping them to stay in front of their customers. Both Jose and Diana strongly believe that having the right combination of back and front end client facing technology solutions will give them the competitive edge they need to succeed in their business.
Both Jose and Diana believe that their 'Customer is King'. Thus the entire platform of service at Home At Last Realty will be customer centric and will rely on making sure that the customer is being treated with excellent follow up. As listing agents both Jose and Diana know the importance of constantly keeping their home owner clients informed about the latest goings on, the results of every showing, and of course all offers that have been presented. While assisting home buyers, regular and constant follow up with each client after each home showing will help Jose and Diana determine what features of the home each buyer did or did not like. Daily logs for each client will be entered into the customer relationship management software. This highly personalized touch is what constitutes excellent customer service and Jose and Diana know how to provide that in spades.
Quick Links:
Go to the Corresponding Questionnaire section for this industry.