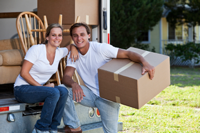 In order to conduct this analysis of the housing stock by the year in which the householder moved into the unit, we have divided up the housing stock into the following categories:
Moved in 1969 or earlier
Moved in 1970 to 1979
Moved in 1980 to 1989
Moved in 1990 to 1989
Moved in 2000 to 2004
Moved in 2005 or later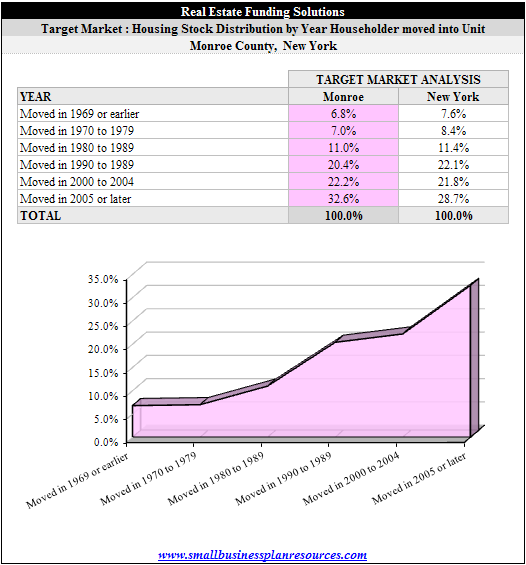 We lumping up the three categories we find that in Monroe county, 24.8% of householders had moved into their homes before 1989 as compared to 27.8% for the state of New York. This of course is an important piece of information since folks who tend to have been in their homes for long periods of time, tend to be older and also on balance tend to have lower mortgages since they have been paying off their loans for longer periods of time as compared to folks who have moved in more recently.
When we lump together the last two categories of this table, we find that 54.8% of folks moved into their homes after the year 2000 in Monroe county compared to 50.5% for the state of New York. This finding once again confirms that homeowners in Monroe county have been in their homes for fewer years as compared to homeowners statewide.
For a business like Real Estate Funding Solutions, this indicates that there are probably higher balances on mortgages outstanding in Monroe county, as compared to the rest of the state. This would be very important in the event of a refinance boom caused by a drop in interest rates, since a refinance of a larger existing mortgage results in a much larger saving to the homeowner than the refinance of a smaller mortgage. In fact many times, if the outstanding mortgage amounts are below $50k, the net savings to the homeowner after accounting for fees and costs tends to very marginal and many homeowners simply opt to stay in their existing mortgages or look for a expedited mortgage refinancing solution with their existing lender where an automated appraisal and a simple change in the existing note results in a lowered transaction cost to the homeowner.
Quick Links:
Go to the Corresponding Template section for this industry.
Go to the Corresponding Questionnaire section for this industry.