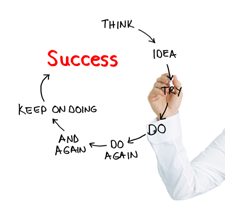 We believe that the following elements will contribute greatly to our being able to execute on our goals and objectives:
It is of course imperative that we successfully receive our mortgage broker license from the State of New York. While we don't anticipate any difficulty in obtaining this license, we certainly won't be able to begin origination of loans in our own name until this key milestone is achieved.
Successfully secure financing in the amount of $11,350 to provide 27% of the capital in our estimate for the start up funds required.
The ability of our firm to successfully set up contracts with national and local lenders so that we can originate loans and send them to these lender for processing and closing.
While we have planned for a slow market environment at Real Estate Funding Solutions, we also believe that is important that a generally healthy economic environment prevail for the county of Monroe, New York during the course of the first few years. This does not mean that we wont be able withstand tough times but it would certainly be detrimental to us and any other mortgage brokers if the national and local economy were to undergo a protracted recession.
As the firm grows, we will need some assistance and being able to put our hands on key processing staff that will be able to assist both Ryan and David in the processing of loans will be key for the business to efficiently close its loans.
Being able to maintain and create new strategic business alliances with centers of influence like realtors, attorneys, certified public accountants ( CPA's ), small business bankers and loan officers working for large commercial banks will also be key to getting a steady volume of business.
Quick Links:
Go to the Corresponding Questionnaire section for this industry.