The Break Even Point is one of the most key pieces of financial analysis that a small business owners like Ryan and David can undertake when writing out the business plan for a small business like Real Estate Funding Solutions. This analysis tells the owners just how many mortgages have to sold in order to cover the fixed costs faced by the business. This analysis tells the business owner how much they need to sell in order to stay alive and stay
In our analysis, where we are calculating the break even point in terms of mortgages closed, we take in the operating expenses for the first year of 2012 which are projected to be at $109k and allocate approximately $40k of those costs to being fixed and the other to be variable. Gross margins for a business like real estate financing will be 100% since there is no cost of goods sold for this business. Interest expeses are also added to the operating expenses.
Once we input these parameters into the break even analysis template we find that for each sales of $3,500, we are looking at a gross profit of $3,500 which of course is 100% of the sale price given that there is no cost of goods sold. When dividing the adjusted operating expenses of $40k by the $3,500 of gross profit per unit of sale we come up with a break even number of 12 mortgages that have to be sold by Real Estate Funding Solutions to stay in business.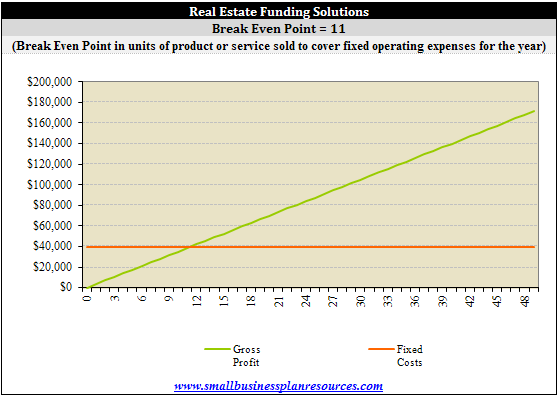 We have projected in that in our first year of operations, even given a slow growth environment we will be closing at least 29 mortgages. Thus we feel extremely confident that we will be able to meet out break even costs by closing 12 mortgages in the first year of operations. One of the reasons that we are able to maintain such a low adjusted operating expense cost structure is that we don't intend to hire any processing staff until at least our second year in business. This of course greatly reduces the amount of overhead and expenses that we would have to face. Since both Ryan and David are the owners and loan originators, they can also have much greater control over their own salaries. Clearly if the market is not doing well and the business environment is very slow, they will both choose to forgo a part of most of their salaries. Compensation is the largest operating expense in a real estate financing business and if the owners can control that, and rely on their own savings for the first couple of years, we feel that the business has a very good chance of succeeding as per the projections of this business plan.
Quick Links:
Go to the Corresponding Template section for this industry.
Go to the Corresponding Questionnaire section for this industry.