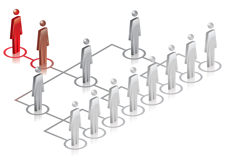 In the first year of operations the management of Real Estate Funding Solutions will consist of its two owners - Ryan Armstrong and David Chen. After the first year, there are plans to hire a processor to assist both Ryan and Daivd with the processing of mortgage loans.
Ryan Armstrong:
Ryan has been in the real estate financing business for the past 8 years. He started his career as a loan processor for a local bank and then was promoted to a junior loan officer where he assisted the largest producer of the bank with loan origination activities. Working next to a seasoned professional, Ryan quickly picked up the best practices of the real estate financing business and after 5 years was finally promoted to the position of senior loan officer at the bank. This extensive 8 years of working for one of the largest banks in terms of real estate home loan origination volume has given Ryan a great understanding of the local dynamics of real estate financing. He is well respected amongst his peers and knows many realtors, attorneys, and CPA's from his many loans.
David Chen:
Much like Ryan, David too has spent 5 years working at a smaller local direct lender. he also began working in this industry as a loan processor for a very large producer and was the first person in the bank to be promoted to the position of loan officer with 2 years of working in the industry. His experience in dealing with appraisal and title issues set him aside from the rest of the mortgage origination team at the bank and he will be bringing this wealth of experience to the table when he joins Ryan at Real Estate Funding Solutions.
There are plans to hire a processor and both Ryan and David have worked alongside some very good mortgage professionals and will be able to choose from at least 3 to 4 of their former colleagues whom they can bring in when they are ready to hire a loan processor.
Quick Links:
Go to the Corresponding Questionnaire section for this industry.