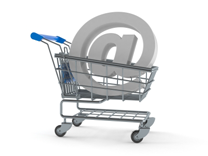 Real Estate Funding Solutions will be getting a integrated web site and loan origination software from Calyx Software. The Calyx Point and Point Central software have been used by both Ryan and David in their respective businesses and they intend to continue using this dependable technology going forward. One of the great advantages of getting their web site built via Calyx is that it allows for seamless integration of user input data from the website into the database reducing the need for the borrowers information to be input again by Ryan, David or processing staff. This integrated web strategy will save the firm a lot of time and increase productivity.
Both Ryan and David will also be using Google Adwords to market their real estate financing services online within the target market of Monroe county. The great part about having a website is that when users click on the advertisements placed using Google, they are directed to the web site and can get to know the company and begin the application process right away.
We believe that having a robust and integrated web strategy that connects directly to the loan origination software and is able to provide the company to sell its services online using Google adwords will be greatly beneficial to the business.
Quick Links:
Go to the Corresponding Questionnaire section for this industry.