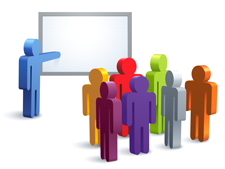 In this section of the business plan we discuss the sales projections for the third year that we have included in this business plan. In order to truly be realistic about the future, we believe that we need to factor in different market conditions into our sales forecasting. As when looking forward at Real Estate Funding Solutions, we have projected our sales based on either a slow market condition characterized by a sluggish economy, a good market condtion which we understand to be a economy operating under normal economic conditions of demand and supply and finally a great market characterized by an booming economy like 2005 when you could barely keep up with the mortgage volume coming in through the door.
In the third year of our operations, we expect to be in a good place financially after having established ourselves in business for over 2 years.Another item that we have factored into our sales projections is sales seasonality - it is a fairly well known fact in the mortgage broker business that busiest time of the year tends to be the spring and the summer. Once the summer home buying season is over, school starts up and most folks tend to put aside their plans to buy another home for the rest of the year. Indeed many homes are also taken out of the listing service by realtors and home financing solutions related to home buying tend to slow down. We are projecting that Ryan and David will have to deal with
Thus we are projecting that for the third year in a good market condition we will probably be able to get to $225,000 in sales after closing 64 loans each generating about 3,500 in both total profit. In the event the market for real estate financing were to slow down, we are projecting that we will be able to close on 51 loans for the third year that will bring in a total of $180,000. Also in the event we have a refinance boom and actually wind up with a great market condition, we project that Real Estate Funding Solutions will be able to take in approximately $228k having closed up to 74 loans in its third year of operations.
The $3,500 profit that we are projecting per loan assumes that the market value of our typical home financed will be approximately $175k that will have a mortgage of roughly 80%. We are estimating a yield spread premium of 2.25% on average that we will receive from our lenders for bringing the loan to them and additionally we also estimate that we will be charging each borrower $350 for application and processing fees.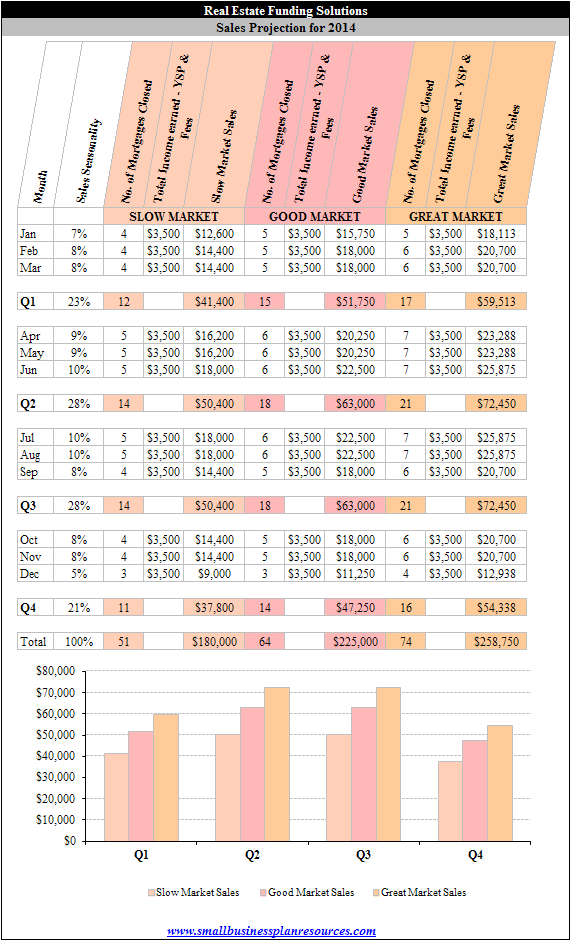 Quick Links:
Go to the Corresponding Template section for this industry.
Go to the Corresponding Questionnaire section for this industry.