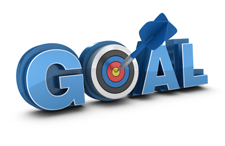 What are the goals and objectives that a business owner like Jack Gordon needs to mention in a business plan for A Touch of Tuscany?
As the name of the section indicates, the goals and objectives of a small business are in a nutshell the goals that it needs to achieve to be able to fulfill its mission statement. What that means for a small business owner like Jack Gordon is that some very careful thought has to be put into understanding why a small business like A Touch of Tuscany is in business to begin with. Once the larger picture has been expressed in the form of a mission statement, the next order of business that Jack Gordon will have to tackle will be to state just what his goals and objectives need to be so that the business can successfully accomplish what it has set out to do in its mission statement.
A goal is the end game. Where do you want to be at the end of a process?; what do you want the outcome to be? A goal focuses on the end instead of how to go about getting there. This is a very simple and useful way to approach all decision making in the small business world. We recommend that our business owners like Jack Gordon focus on what they want the outcome of any action or process to be. Once they have set the outcome down then it becomes relatively easier for them to go about trying to plot out what they need to do to get to that point. Objectives are the second side of the coin - an objective is a specific and clear measureable point of achievement which when achieved will indicate that the goal has been reached.
And yet setting goals and objectives is easier said than done. Most small business owners do not know what they want the outcomes to be. They know in a general sense that they want to be successful in their business endeavours but they don't know how to define that success in the context of their small business. Thus if Jack Gordon was to say that his goal is that the wants A Touch of Tuscany to succeed without stating the objectives it would be very hard to understand since it success for A Touch of Tuscany has not been defined. On the other hand if Jack Gordon was to say that he wants A Touch of Tuscany to be profitable within its first year and achieve a customer base of 300 customers, $400K in sales and $35% gross margins by the third year - that is how the goal of achieveing business success has now been made clearer by defining the objectives that will need to be met in order to successfully meet the goal.
What are some examples of Goals and Objectives that can be used by a small business like A Touch of Tuscany?
The following examples should be helpful in devising the goals and objectives:

To be the best Full Service Restaurant in Westchester County, New York is the goal; to have the highest customer satisfaction ratings and repeatedly win a most prestigious industry award in Westchester County, New York is the objective.
To gain most of our business through referrals is the goal; to have each of our clients refer us at least 3 new clients per year is an objective.
To ensure that our employees are loyal is the goal; having a turnover rate of less than 5% per year is the objective.
Having the most respectful and helpful staff is the goal; having our customers rate our client service at a higher than 90% rating is the objective.
Achieving a financial break even point in our first year is the goal; achieving $100,000 in sales with the current cost structure is the objective.
Can a small business owner like Jack Gordon reach their goals without reaching their objectives?
No. The only way to get to your goals in to meet your objectives. What we have seen happen many times is that small business owners will set goals but will not set clear objectives to measure themselves. In most instances they are of course setting themselves up for failure, but in a few cases we have seen that some small businesses will actually meet their goals in spite of not having set out clear objectives.
This simply means that the business has successfully met all the objectives that it would have met if the objectives had been set and hence it has been able to meet its goals. Setting the objectives in a clear manner give the business owner a very good idea of just how well they are or not doing.
Setting realistic goals and objectives - why this is so important and why many small businesses like A Touch of Tuscany fail to do so?
If you are about to open a restaurant and set a goal that states that you want to be able to expand this one restaurant into the largest national chain of restaurants in the country within 1 year, most folks will call you crazy and we would have to agree! The reason is of course that the goal that you have set for yourself is just so unreasonable and unattainable that you are bound to fail. Understanding the limitations of your talents and capabilities is just as important as being confident and hard working in the small business world.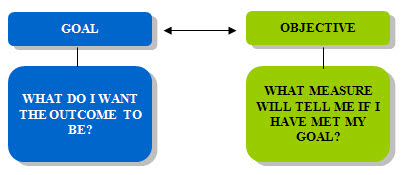 While most small businesses certainly don't go about setting impossible goals like the one mentioned above, many small business owners like Jack Gordon do make the mistake of being unrealistic in their goal setting. The most common mistakes that we have seen small business owners make tend to be:
Underestimation of expenses: This is an area where due to lack of proper and through business planning, small business owners often overlook the unforeseen expenses of insurance, higher cost of financing, higher cost of labor, inflation at the wholesale level etc.
Overestimation in sales forecasts: Typically here is where many small business owners also tend to run into trouble - we feel that they don't estimate accurately what sales could be like in a slow market and that is why they tend to run into serious trouble when slower economic times come around. We recommend that when setting goals, especially in businesses that are just starting out, that you consider overestimating costs and underestimating sales.
Should goals and objectives be changed with the changing nature of the business environment in target markets like Westchester County, New York?
Yes. The nature of the small business world is that change is the only constant. Thus since nothing stays the same the dynamics of market forces are always forcing small business owners like Jack Gordon to recalibrate and re-acesss their strategy and tactics. Given this reality, we recommend that the goals and objectives of the business be revisited every 6 months for a reality check by the business owner. In the event given the changes in the local target market, a small business owner like Jack Gordon feels that their goals and objectives need to be tweaked - then by all means - they should be adjusted.
For example if your goal is to achieve a break even point within the first year of operations and the objective that you need to reach to fulfill that goal is a total annual sales amount of $100,000, you will need to adjust that objective in the event of a sudden rise in the cost of a key ingredient or a delay in getting the renewal of a certain permit, or order. It will be impossible for you to reach that same objective and goal if you don't factor in the new changes into your mental karate.
Quick Links:
Go to the Corresponding Business Plan section for this industry.