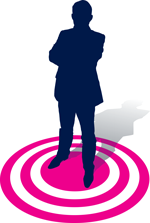 What is the Mission Statement and why is it so important in a business plan for a small business like A Touch of Tuscany?
You never get a second chance to make a first impression is a very common saying and that applies to business plans as well. The first item of a business plan that is read by either lenders or potential partners is the mission statement. This is where a a small business owner tells the world just why they are in business, using the simplest language he or she can find.
A mission statement must indirectly answer the following questions:
Why are you in business?
What product or service do you provide a target market like Westchester County, New York?
Why your business - what special service (if applicable) will you be providing your clients.
Is there any ideal Mission Statements that small business owners like Jack Gordon can use?
There is no such things as a ideal mission statement, but there are complete and incomplete mission statements. In our opinion the mission statement must leave the reader of the business plan with a clear strong first impression of exactly why a small business like A Touch of Tuscany is in business. It must be assertive and have the confidence that is required for the business to succeed in real life.
Any good Mission Statement is also incomplete without a specific mention of how it plans to serve its clients which after all is the only reason that they are in business. This is where words like Integrity, trust and commitment come into play. Your mission statement is not just a statement about why you are in business but also a promise that you make to yourself and to your clients about the quality of work they can expect from you. Make sure your mission statement captures your values as well as your vision for your business.
What are examples of some really good mission statements that can be used by small business owners like Jack Gordon?
ABC family dentistry provides the community with excellent dental care through a very strong focus on its key values of Integrity, strong business ethics and excellent customer service.
We at XYZ value our customers and are in business to provide them with a high quality residential moving service at an affordable price while keeping our client's satisfaction as the center of attention in our organization.
I am a Life Coach whose sole purpose of being in business is to assist my clients to grow personally and professionally using my proven methods of spiritual and emotional development.
To organize the world's information and make it universally accessible and useful. (Google's mission statement.)
Our mission is to be the world's premier consumer products company focused on convenient foods and beverages. We seek to produce financial rewards to investors as we provide opportunities for growth and enrichment to our employees, our business partners and the communities in which we operate. (Pepsico's mission statement.)
To be a premier consumer electronics company which manufactures and sells innovative technologically advanced products as it endeavors to improve the quality of life within the global community. (Toshiba's mission statement.)
UCLA's primary purpose as a public research university is the creation, dissemination, preservation, and application of knowledge for the betterment of our global society. (UCLA's mission statement.)
We have included mission statements from small businesses as well as some of the world most prominent companies and you can see that all the mission statements have the key element of simplicity and telling the reader why the business exists. In the case of the mission statement from Google, you can see that it is very short and too the point and yet it conveys everything that the company wants the reader to know about why it is in business.
Take some time to think through your mission statement - it is truly the first and sometimes the last thing that the reader of your business plan will remember about you. You could have a fantastic business plan and a weak mission statement, and that could affect the image or impression you make in a very significant way. On the other hand, you could have a very weak business plan but an excellent mission statement and that may win the day for you!
Quick Links:
Go to the Corresponding Business Plan section for this industry.