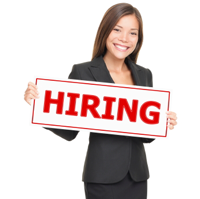 In this section of the business plan we are looking at the employment by industry for the target market of Westchester County in comparison with the State of New York.
The employment by industry analysis gives us another great look at the economic picture of the target market and also gives us a good idea of how many folks are employed in our own industry - the accomodation and food services industry as compared to other industries.
The following are industries groups into which employment is broken down:
Health care & social assistance
Retail trade
Wholesale trade
Manufacturing
Administrative & support & waste management & remediation service
Finance, Insurance & Real Estate
Professional, scientific, & technical services
Accommodation & food services
Construction
Other services (except public administration)
Transportation & warehousing
Information
Management of companies & enterprises
Educational services
Arts, entertainment, & recreation
Agriculture / Mining / Forestry / Utilities
As our analysis demonstrates, manufacturing jobs in Westchester County on account for 3% of all jobs compared to 6.3% for the State of New York. Additionallyfinance, insurance and real estate jobs also account for 7.9% of all employment in the County compared with almost 10% at the State level. There are howeveralmost 25k constructions jobs that account for almost 7% of all employment in the County comparead to only 4.4% statewide denothing a healthy constructionsector.
Also of note is that management of companies and enterprises has 4.5% of all employment compared to only 2.4% of employment statewide. Of special note ofcourse are the almost 25k jobs in the food and accomodation services industry which account for 6.6% of all employment compared to 8.3% of all employmentat the State level.
Overall there is no industry that has more than 10% of all employment and to see this kind of enonomic diversity is always a good sign given that any one sectorof a local economy could easily stall and over dependence of the local economy of that one sector could lead to a signifcant reduction in buying power and disposableincome in the event of an economic slowdown. With a widely diverse economy like the one in Westchester Count, a small business like A Taste of Tuscany willalways have a better chance of survival in the event of a economic slowdown.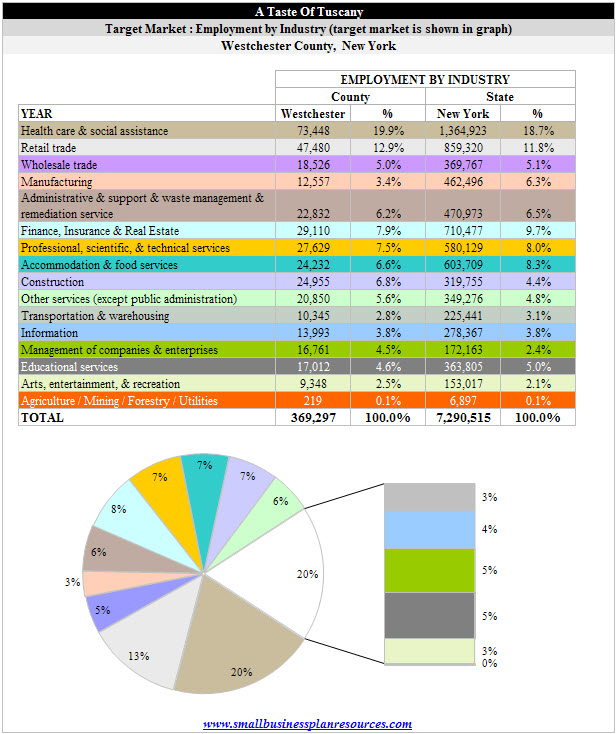 Quick Links:
Go to the Corresponding Template section for this industry.
Go to the Corresponding Questionnaire section for this industry.