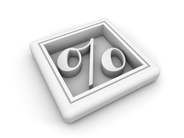 The Return on Investment for a small business like A Touch of Tuscany is the the Earnings before income and taxes divided by the Total Assets employed in the small business by a small business owner like Jack Gordon. This is a key profitability measure and it gauges just how well the small business is doing at turning over the investment in the Total Assets made by the owners of the business. This key profitability ratio is looked at very carefully by lenders and potential partners in the small business world and it is important to understand that it has different meanings in different business environments.
Simply put the return on investment is the return ( profit or loss ) you make on the total investment made by you in any situation. Thus if you buy a stock for $100 and sell it for $110, your return on investment is $10. Then from there you can get into how long you held the stock and what your return on investment was at an annual rate and so on. In the small business context, the return on investment annually is the money that the business generates after operating expenses, but before paying income taxes and interest for a given investment in Total Assets.
As our analysis reveals, the return on investment for the owners and investors of A Taste of Tuscany is projected to be 22.2%, 24.8% and 26.5% for 2009, 2010 and 2011 respectively. These are healthy returns since these numbers imply that for every $1 invested in the business, the restaurantis able to generate up to 22 cents worth of earnings before income taxes.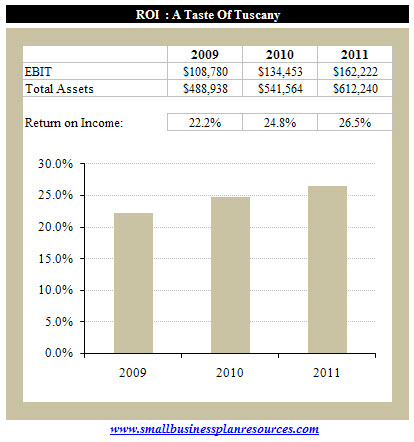 Quick Links:
Go to the Corresponding Template section for this industry.
Go to the Corresponding Questionnaire section for this industry.