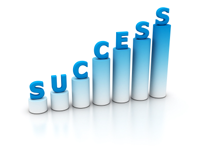 The Gross Profit Margin ratio is a very important profitabilty ratio used widely in all industries and businesses and it is very important to a small business owner like Jack Gordon because it gives him a very clear idea of what kind of cushion a small business has after it has paid for its cost of goods sold. This cushion is what determines the profitablity of a business and the next item that is subtracted from the Gross Profit to get to the operating income is of course the operating expenses. Thus having a good Gross Profit Margin ratio is critical to all small businesses like A Touch of Tuscany.
We can see in our analysis that we are looking at a fairly steady gross profit ratio of 65%, 66% and 67% for 2009, 2010 and 2011 respectively.What this means is that after the cost of goods sold has been accounted for, 65% of the total sales will be available to accommodate the operating expenses of the business. Gross profits are projected to be $964k, $1,008k and $1,075k in the three years and sales are projected tobe $1,455k, $1,528k and $1,075k respectively.
Clearly if sales were to come in lower than expected, our gross profit margins would be under pressure and we would have to keep a very tight lidon our operating expenses to ensure that our operating profit margin was healthy enough to pay the interest on our debt and the taxman for any dues.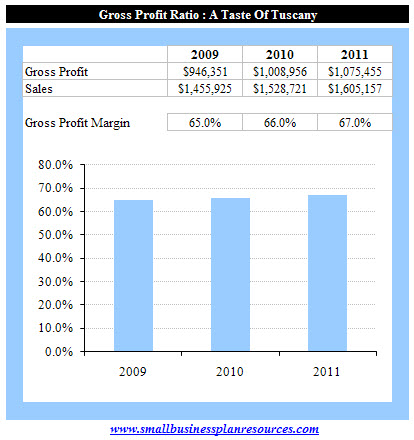 Quick Links:
Go to the Corresponding Template section for this industry.
Go to the Corresponding Questionnaire section for this industry.