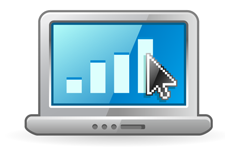 The Sales to Inventory ratio denotes the number of times the annual sales of a small business like A Touch of Tuscany is able to cover the inventory that the business holds on average. The analysis of this ratio is best done over time since the amount of times the sales of the company will be able to cover its inventory will vary with both the level of sales and the changing level of inventory. Generally speaking the higher the ratio of the Sales to Inventory, the better it is for the company since it shows a robust demand for its products and services.
As we can see from our analysis, the sales to inventory ratio is projected to be 72.8, 76.4 and 80.3 in the years 2009, 2010 and 2011 respectively - this of coursemeans that the projected sales are expected to cover the inventory by almost 75 times - a very good sign indeed. The good news is that we are not projectingtoo much of our cash to be tied up in our inventory, but we need to be vigilant when monitoring this ratio. If sales were to come in lower then projected,this number would certainly change negatively.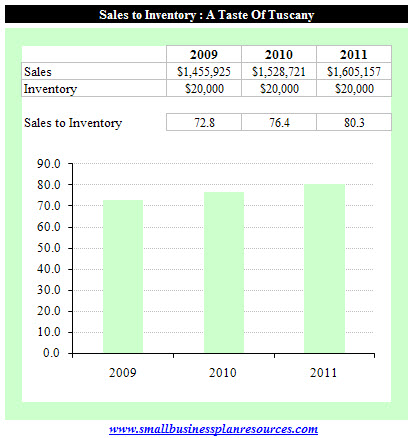 Quick Links:
Go to the Corresponding Template section for this industry.
Go to the Corresponding Questionnaire section for this industry.