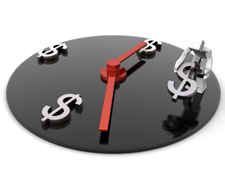 The Average Collection Period Ratio is also known as the Days Receivable ratio. This is a key liquidity ratio for a small business like A Touch of Tuscany. The average collection period ratio calculates the amount of days worth of receivables are outstanding by dividing the Daily sales by the total accounts receivables for a small business like A Touch of Tuscany The daily sales are of course the annual sales divided by 365.
As we can see from our analysis, the average collection period ratio for A Taste of Tuscany is projected to be 0.91 days for each of the three years of 2009,2010 and 2011 in our plan. This means that it will take less than one day for us on average to collect the accounts recievable - this is of course no surprisesince the full restaurant business requires payment upon delivery of goods and service with a few exceptions like a large catering order where the restaurantmay have to only get a deposit upfront.
Again, while this ratio may not be very important in the full service restaurant business in absolute terms, a major change in this ratio may imply that there is something changing like sales going down or recievables going up, that will warrant a closer look by management.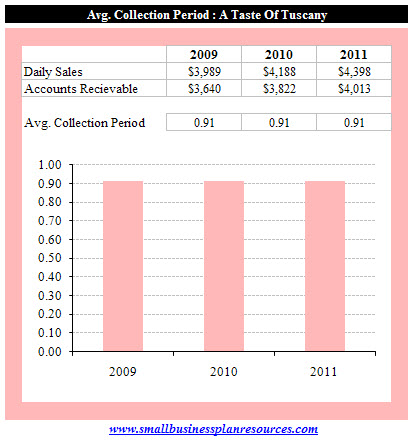 Quick Links:
Go to the Corresponding Template section for this industry.
Go to the Corresponding Questionnaire section for this industry.