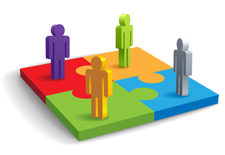 Given that both the ownes fo A Taste of Tuscany ( Jack and Carmen) are going to be the managers, it is anticipated that the styple of manangementwill be very hands at the restaurant given that they are both industry veterans. The personnel plan that we have in place begins with both Jack andCarmen at the top.
We anticipate hiring 5 operations staff ( waiters) and 3 production staff along with 2 adminstrative staff - one full time and one part time. On the salesand marketing side, we anticpate having one part fime staff and another 3 to 4 part time waiters who will augment the regular waiting staff during the busierevening and weekends.
We recognize that a large part fo the income for the waiting staff will also come in the form of tips and we will have a policy wherein we will be initiating a tipping pool - all the tips for all the patrons will be collected for the entire day into one pool and everybody will be apportioned a certain share of the poolbased on a commonly agreed to split.
Quick Links:
Go to the Corresponding Questionnaire section for this industry.