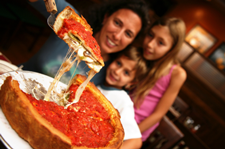 In this section we look at the average annual consumer spending on foods away from home based on the occupation of the consumer. When looking at the data
The group spending the largest absolute dollars on foods away from home back in 1999 was self employed workers who were spending an average of $2,857per year on foods away from home – wages and salaried earners came in a close second back then spending $2,421 on average annually. However in 2009 this trend has been reversed with the Wage & Salary earners now spending $3,031 on average annually, with the self employed workers spending $2,979.
The second trend that is clear is that the greatest growth in percentage terms on foods away from home has been by those folks who are retired – a 37.8% increase from $1,183 spent on average in 1999 to $1,630 spent on average in 2009. Also very important to note is the lack of increase in average annual spending on foods away from home by self employed workers who have only had a 4.3% change in their average annual spending. This shows that self employed workers are not spending the way they used to a decade ago and this analysis may warrant some more reseach to see how the disposable income of the self employed workers has been trending over the past decade.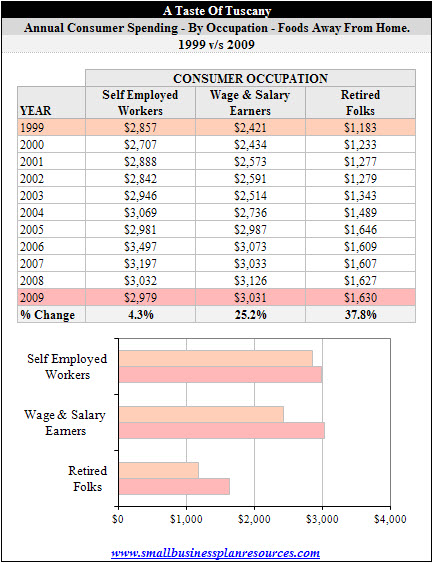 Clearly, the Wage and Salary earners are the ones spending the most money on foods away from home and that would be the most significant client base for a A Taste for Tuscany – the larger trend of retired folks spending more on a percentage basis would lead us to believe that there is a growing trend amongst the retired to eat out more than they used to and we would certainly keep that into consideration when we plan our early bird specials.
Quick Links:
Go to the Corresponding Template section for this industry.
Go to the Corresponding Questionnaire section for this industry.