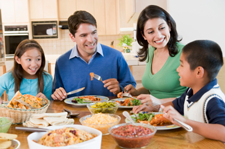 In this section of the business plan we analyze the annual consumer spending at the national level by the size of the consumer unit on food away from home. A consumer unit of 1 person indicates that the household has just 1 person consuming a good or service and likewise a 4 person consuming unit indicates a household that has 4 persons consumging a good or service. Clearly it stands to reason that the more folks we have comprising a consuming unit, the higher their annual spending on consuming food away from home will be – right...well not always.
Examination of the data over a decade yields some interesting analysis - In 1999 a 5 person consuming unit spent $2,750 on average annually on food away from home, but a 4 person consuming unit spent $2,923 – a good $173 more! – this pattern is repeated in 2004, 2005, 2006, 2007, 2008 but not in 2009. Clearly, we can see that the relationship between the size of the consuming unit in terms of persons comprising it, and the total absolute dollars spent annually on average on food away from home, is not always a constant and direct relationship. Indeed the amount spent by a 4 person consuming unit is often more.
The most growth on a percentage basis on annual spending by consuming unit has come in the 5+ person consuming unit over the last decade resulting in a almost 35% increase with the 3 person consuming unit showing the second largest increase coming in at just under 30%. Put simply single folks will probably not spend as much as married folks or those who are married with children on food away from home.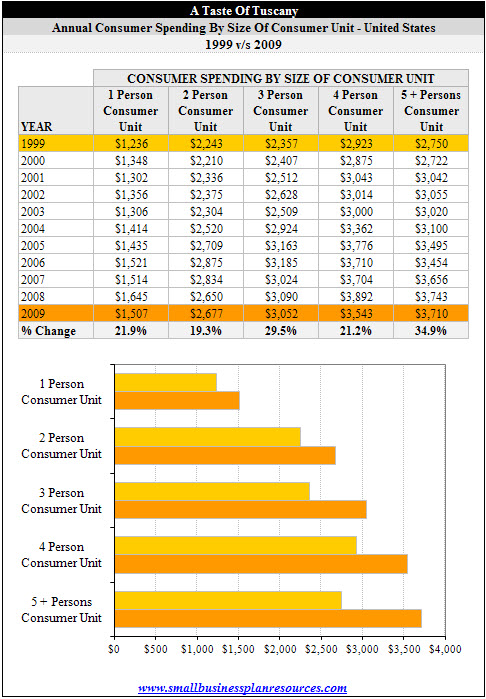 This does have an important implication for the restaurant business – many restaurants are known to be 'family friendly' in that they have high chairs for toddlers and the ambiance and atmosphere is inviting for families with little children – dinners and fast food outlets are a good example. On the other hand many high end restaurants are not 'family friendly' and one will rarely see kids there.
A Taste of Tuscany is on the higher end of the full service restaurant pecking order and while we intend to certainly be open to familes with children, we don't intend to provide high chairs etc since it would certainly encourage bringing in toddlers which may disturb the ambiance that other patrons tend to expect from a high end restaurant like ours.
Quick Links:
Go to the Corresponding Template section for this industry.
Go to the Corresponding Questionnaire section for this industry.