4. D&B Commercial Credit Scores and what they mean
Besides the widely used Paydex score D&B also calculates and reports a commercial credit score on your business to vendors and lenders. The Commercial Credit Score predicts the likelihood that a company will pay its bills in a severely delinquent manner (+90 days past term), or obtain legal relief from creditors, or cease operations without paying all creditors in full over the next 12 months, based on the information in D&B's files. A severely delinquent firm is defined as a business with at least 25% of its payments slow and at least 10% of its payments 90 days or more past due (www.dnb.com)
Just like the credit scores on your personal credit bureau a commercial credit score denotes your financial strength and is derived through a proprietary statistical modeling technique that accounts for the amount of credit the business has available, how much of the credit is used, what is the payment history to the vendors, the length of the credit accounts and many other variables.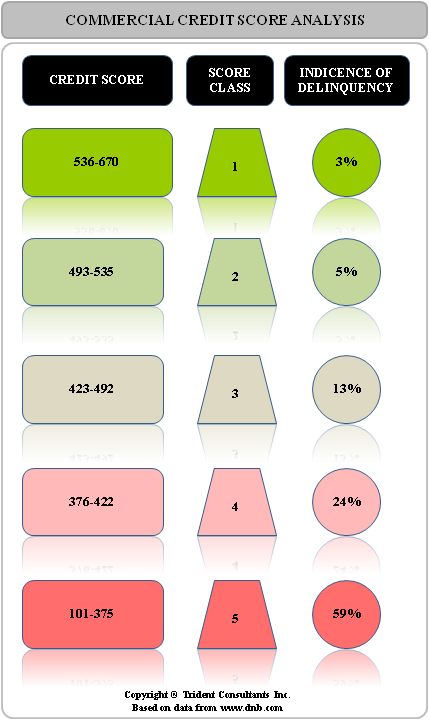 The lowest risk in a commercial credit score is 670 and the highest is 100 and thus the higher your commercial credit score with D&B the better are the chances for your business to obtain credit from vendors and lenders. The credit score class denotes which class of risk you are being categorized under with class 5 being the highest incidence of risk with delinquency rates on average of 58.8% and class 1 being the lowest incidence of risk with the lowest corresponding delinquency rates.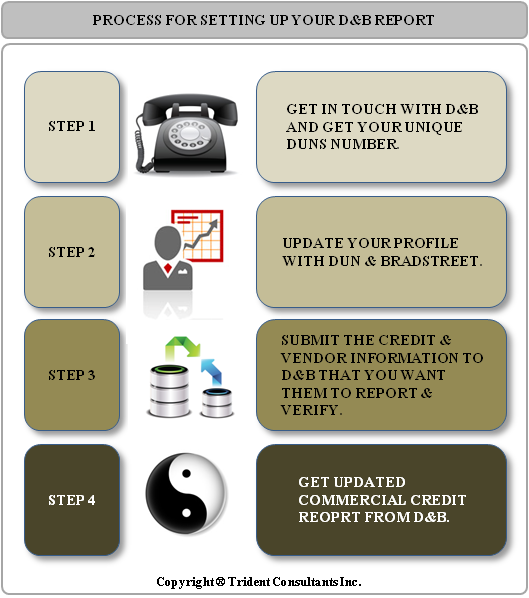 5. How to go about setting up your Business Credit?
We recommend that you get in touch with D&B by visiting their website. If you are not sure about how to proceed feel free to call up them up – they have excellent service representatives who will be happy to assist you. Obtain your unique DUNS number from them and then start by updating your profile. Give them detailed information about yourself and the other business owners – the more information you give them the better it will look for you when vendors and lenders access your profile and credit report.
After this you have to consider which credit and vendor accounts you want D&B to research and add to your Business Credit Report history – this is assuming of course that these accounts are not being reported to the agency already. If they are not being reported we recommend that you pick up to six of your credit accounts with the best payment history and have D&B begin the work of researching these vendors and lenders and finding out your payment history from them. Once done, they will update your Business Credit report and will score you accordingly.