3. D&B Paydex Scores and what they mean
Based on the information that D&B has on you in their files and also on the information supplied by you, D&B complies a few scores that are in turn reported on your D&B credit report when a vendor or lender wishes to look into your creditworthiness.
The most commonly used score is called the D&B Paydex score that calculates how timey your payments have been to vendors and lenders as reported to D&B. The scores range from 20 to 100 and the higher your Paydex score the better are your chances of getting credit and terms extended to you.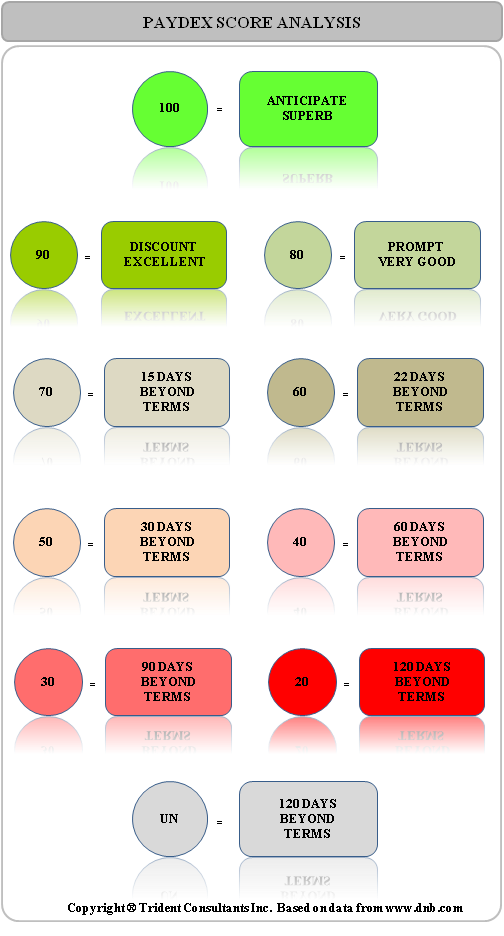 Thus if your business were to get a Paydex score of 55, it would mean that your payment terms on average to your vendors and lenders as reported to D&B are between 22 to 30 days late. Conversely a Paydex score of 92 would indicate that you pay your bills ahead of time before they are due and that is always a very good sign. As a general rule all businesses should aim to maintain a credit score of 80 which indicates that you pay your bills as they are due and thus are prompt.
Most lenders and vendors look for a credit score of 80 as a sign of a solid company that is able to meet its obligations in a timely manner. It is also important to note that typically when these scores are reported to a lender by D&B, they also report the average scores for other companies in your industry. Many lenders and vendors also have their own internal databases that they use to compare the ratings and scores that they get on you from D&B to see how you are doing versus other companies in your industry and even other companies within your geographical area. This is usually how lenders are able to spot if a particular local economy in the country is facing a problem. For example if you business is located within a small town that has just lost a very key employer resulting in a serious hit to the local economy, sooner or later this will affect the other small businesses operating there and it will probably show up in their Paydex scores as well. Thus while it is important to have a good Paydex score, it is also important to note that you are being graded on a curve by most lenders.
D&B also maintains a payment history and is able to provide a trend over the past twelve months showing if you have been improving or worsening in your ability to pay your vendors and lenders in a timely manner.