The choice of entity and business structure that determines how you as a business owner will conduct your business is very important. There are many options available to the business owner who is looking to begin a new business enterprise or even to someone who is buying an existing business. Keep in mind that the laws and rules governing the different types of entities vary from State to State. Before making this choice we highly recommend that you consult with a CPA (certified Public Accountant) and a qualified attorney. There are many significant implications in the selection of business entity under which you will operate the information presented in this section is only to give the reader a general idea of the type of entities that are available.
The main types of business entities that you can operate under are:
Limited Liability Partnership
4. Limited Liability partnership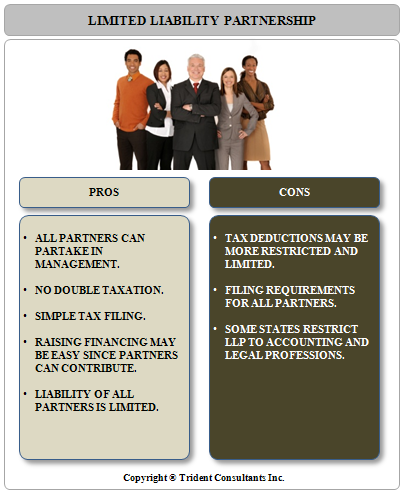 A Limited Liability Partnership or LLP is even more like a regular corporation in that the liability of all the partners is usually limited to the extent of their contributions and yet they all get to manage and operate the business entity unlike the shareholders of a regular corporation that have to elect a board of directors that selects the management to run the day to day operations of a company.
Prior to 2001, the limited liability enjoyed by a limited partner was contingent upon them not partaking in the management of the partnership but this so called control rule was revised and the LLP is a direct outcome of that revision of the United Limited Partnership Act.
Because a Limited Liability Partnership is so much like a corporation, it is taxes as a separate entity. In some states the LLP is only made available to certain professions like attorneys and accountants.
The greatest advantage of an LLP is of course that the liability of all partners is limited and they can all have management control of the business entity. Also there is no double taxation and the business entity can raise capital relatively easily since the partners themselves can contribute the capital when it is needed.