The choice of entity and business structure that determines how you as a business owner will conduct your business is very important. There are many options available to the business owner who is looking to begin a new business enterprise or even to someone who is buying an existing business. Keep in mind that the laws and rules governing the different types of entities vary from State to State. Before making this choice we highly recommend that you consult with a CPA (certified Public Accountant) and a qualified attorney. There are many significant implications in the selection of business entity under which you will operate the information presented in this section is only to give the reader a general idea of the type of entities that are available.
The main types of business entities that you can operate under are:
Limited Liability Company
7. Limited Liability Corporation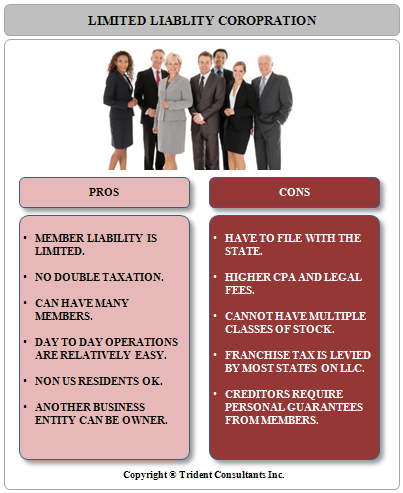 A limited liability company is a more flexible operating business entity giving the business owners the ability to have their liability limited at the same time not having to deal with the typical c-corporation requirements of minutes, meetings and board of directors. LLC shareholders are called members and their interest in the company is called member interest. All members together manage the LLC or some may choose to have a manager elected by the members.
Just like a regular c-corporation, a separate legal entity is created by filing with the state and an annual report and fees have to be paid. Instead of filing an article of incorporation an LLC has to file an article of Organization which includes the names of the members, their interests and their business purpose.
In term of taxation, the LLC does have to file business taxes under its own name but all the income and profits from the business are passed through to the members. An LLC may choose to be taxes as a sole proprietor, partnership, S-corporation or C-corporation (will result in double taxation.)
The most important element of an LLC is the operating agreement that lays out the rights and duties of its members. The LLC operating agreement is its version of a partnership agreement.
The major disadvantage with an Limited Liability Company is that in most states an LLC is viewed as being a separate entity from its owners but in some states an individual operating a business as an LLC may be treated as a sole proprietorship which of course defeats the entire purpose of having an LLC in the first place. This is because the LLC concept is still relatively new. Many creditors also tend to make the members of an LLC personally responsible for the debts.
A common variation of the LLC is the PLLC or professional limited liability company – this form of business entity is open to professionals who are required to have a license such as doctors, attorneys, certified public accountants, architects etc.