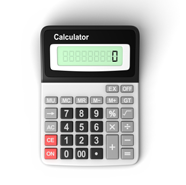 What is the purpose of the template for Start up, Acquisition or Expansion Costs for Central Plumbing & Heating Inc.?
This template has been provided to give a small business owner like Felix Gonzalez the ability to summarize for the readers of the business plan how much money they will be needing towards the startup, purchase or expansion of a business. This is one of the first sections of the business plan for Plumbing and Heating Contractor that a potential lender will turn to when they evaluate the business plan.
How should this template be used for a Plumbing and Heating Contractor and what kind of data should be entered into the template?
Just like in the business plan for Central Plumbing & Heating Inc. we recommend that this template be used to summarize all costs and funding requirements that you as a business owner anticipate you will face as you are starting a new business, purchasing an existing business or expanding your existing Plumbing and Heating Contractor . As mentioned in our questionnaire for this plan, we recommend that you approach the estimation of costs for your Plumbing and Heating Contractor very realistically. If you think you will need more money - this is the place to put down your needs and not be shy. Lenders and potential partners do not like numbers changing post application since it indicates that you have not thought through your needs.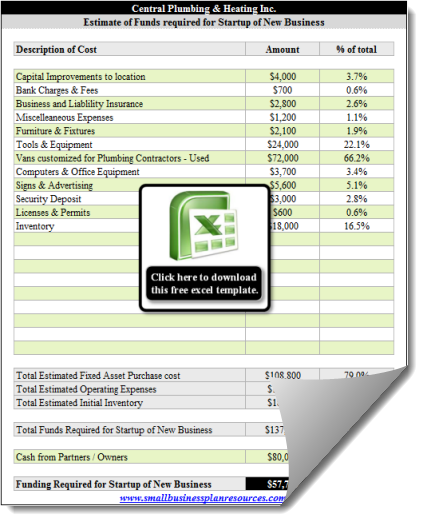 What should I put down for cash in hand?
This section of the template tells the reader of the business plan just how much money you are willing to come to the table with for the start up, purchase or expansion needs of your Plumbing and Heating Contractor . In good lending times when banks are willing to lend they may even agree to lend the entire amount needed for a start up especially if they can proceed with an SBA (small business administration) loan where most of the risk of the loan is being borne by the SBA. On the other hand in tough times when banks are unwilling to lend, you may have to show them that you have some skin in the game by coming up with your own cash in hand for at least part of the project needs. As a general rule, if you are asking for a large sum of money, in your funding requirement, it is better to contribute something of your own to indicate your commitment and belief in the project.
What calculations go into the template?
As in the example for Central Plumbing & Heating Inc. what you have to do is to list the description of the cost and the amount that you anticipate. Also put in the amount of cash in hand you are willing to contribute to the business start up, acquisition or expansion. Also we have included a section for classification of costs - we give you the ability to classify your costs as either Fixed Assets, Operating Expenses or Initial Inventory purchase (current assets). Our template also calculates the sub-totals for each of these categories. You will have to make sure that the numbers that you enter here are also entered into the Financial Statements module. Once you have made your selections you can click on the output tab of the template and cut and paste the output into the word document containing your business plan for your Plumbing and Heating Contractor.
Quick Links:
Go to the Corresponding Questionnaire section for this industry.
Go to the Corresponding Business Plan section for this industry.