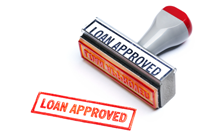 What is the purpose of the loan summary template in a business plan for a Landscape Contractor?
Almost every small business will need to borrow money at some point of time during their operations. Increasingly, all business loan lenders and potential partners need to see a crisp and well written business plan that gives them a destination postcard of where the small business will be in the next 2 to 3 years. A loan summary section in a business plan gives these business loan lenders and potential partners a birds eye view of the total loans and lines that a small business like Green Lawn Landscaping, Inc. will have on its books.
Filling out the Loan Summary Template for a small business like Green Lawn Landscaping, Inc.:
Filling out the loan summary template is fairly simple, all you have to do is to enter in the loan amounts, annual interest rate on the loan, the duration of the loan in years and our template will do the rest. We have provided room for you to input two fully amortizing lines of credit and two interest only lines of credit.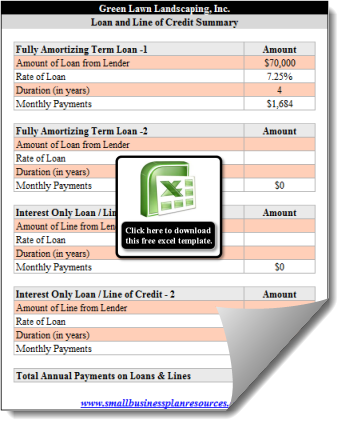 What are the differences between the calculations for the fully amortizing loan and the interest only line of credit:
A fully amortizing term loan usually has a duration of between 3,4,5 or 7 years. The borrower has to pay back both interest and principal with each payment made to the lender and the monthly payments are set. A term loan can typically not be drawn down over and over - there is usually a draw down period and after a certain window whatever has been drawn down by the client is then 'termed out' for the remaining duration.
Lines of credit requiring interest only payments have become increasingly popular in the last few years and they are usually renewed every year by the lender. A minimum payment of interest only is required and the borrower typically has the ability to draw down on the line as they need to.
The monthly payments are calculated automatically by our template. You will have to make sure that the data entered here in this template is the same as the data entered into the financial statements template - loans and lines modules section.
Quick Links:
Go to the Corresponding Questionnaire section for this industry.
Go to the Corresponding Business Plan section for this industry.