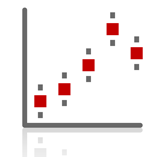 Market conditions and sales projections for the second year Green Lawn Landscaping is in business:
Just as we did when projecting sales for the first year, in the second year of business for Green Lawn Landscaping, we decided to make sure that we take in three distinct market conditions. First is a slow market condition that is typically characterized by a sluggish economy. Second is a good market conditions that reflects a typical average market for the landscape contractor business and finally is the great market conditions that is reflective of a booming economy where business is coming in from everywhere and folks like Frank and Peter are just trying to keep up with demand.
Sales seasonality - how much will sales fluctuate during the year for Green Lawn Landscaping?
As we mentioned in the previous section Green Lawn Landscaping is located in Allegheny County, Pennsylvania where the landscaping business in the North East is characterized by the very busy spring and summer months, followed by a relative quiet winter when contractors are making some money by offering snow removal services and keep the walkways and driveways free of snow and ice. With this in mind, we are estimating that both the first and last quarters of each year will be the traditionally slower periods of activity for Green Lawn Landscaping. However between April and September we estimate that the firm will bring in almost 67% of its total annual revenues.
Sales projections for the second year for Green Lawn Landscaping:
Thus the firm is projecting that for the second year in a good market condition we will probably be able to get to $337,000 in sales with approximately 879 customer transactions each generating about $380 in revenues. In the event the market for electrical contracting services were to slow down, we are projecting that we will be able to process 659 sales transactions for the second year that will bring in a total of $252,750. Also in the event we have a boom in the local and larger economy and we wind up with a great market condition, we project that Green Lawn Landscaping will be able to take in approximately $404,000 having served its customers with 1,054 transactions during our second year of operations. Overall we are projecting a roughly 14.2% increase in revenues in the second year as compared to the first. We are also estimating that in a slow market environment, revenues could decline as much as 25% and on the other hand if the market conditions are great they could go be 20% higher than the typical good market environment.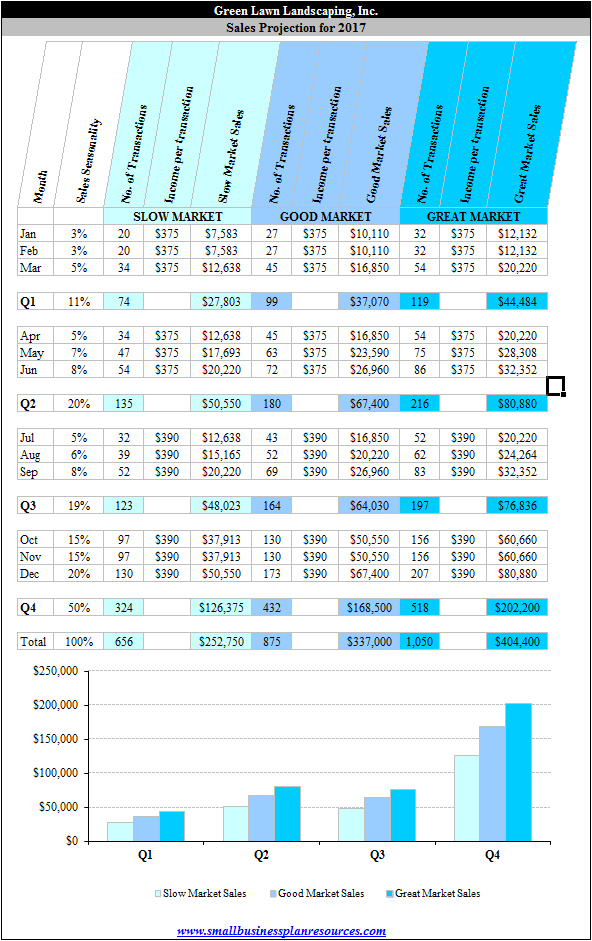 Factoring in annual lawn maintenance contracts into the mix:
Just as we did in the first year, we have divided up all potential annual maintenance contract revenues into each of the four quarters. Clearly more work will be done during the summer months on a annual maintenance contract and therefore the more revenues will be generated accordingly. These sales projections should be used carefully when planning out cash flows projections since there can be many months when business is rather slow and very little cash is coming in.
Revenues from snow plowing:
Frank and Peter have included revenues from snow plowing in the total sales projections. While typically each snow plowing job pays differently depending on the size of the parking lot or driveway, when projecting sales we have added the total revenues anticipated for each quarter and divided that up by the total number of jobs irrespective of the fact that in the winter months all the revenues will be coming from snow plowing and during the rest of the year it sales will be generated by the traditional landscape functions of lawn maintenance.
Quick Links:
Go to the Corresponding Template section for this industry.
Go to the Corresponding Questionnaire section for this industry.