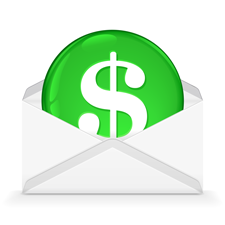 The Return on Equity Ratio measures the ability of a small business like Green Lawn Landscaping, Inc. to be able to generate bottom line Income (Net Income) for its shareholders and is a key ratio that is looked at by lenders and especially potential partners when they are looking to either lend money to the business in the form of a business loan or make an investment into the business.
We are projecting that for the return on equity for Frank and Peter of Green Lawn Landscaping will be 38.5%, 32.5% and 28.7% for 2016, 2017 and 2018 respectively. What this implies is that for every $1 invested in Green Lawn Landscaping by Andy and Jose the firm will generate 38 cents in 2016, 32 cents in 2017 and 29 cents in 2018. This is an excellent return on the initial amount invested and all retained earnings invested back in to the business for both Frank and Peter.
Net Income is of course the final net income from which the shareholders or owners will get paid a distribution and it is projected that the net income for the next three years will be $43,193, $54,061 and $66,931 respectively. Total equity that includes the original contribution from shareholders adjusted for retained earnings and distributions is projected to be $112,093, $166,154 and $233,086 respectively. It is important to note that the net income included here already has accounted for the salaries to both Frank and Peter.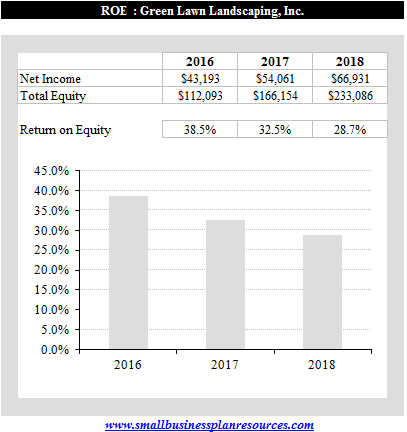 The reason for the decline in the return on equity for the second and third year is the fact that all the retained earnings will be added back to the business by both Frank and Peter. This of course increases the total equity that both the owners have in the firm. The rationale behind investing the cash surplus is to be able to build up a solid cash reserve that is needed when one goes after larger contracts. Surety bonds require a very high level of equity in the business to be able to provide the higher levels of bonding that is required with larger projects. Once sales start growing, we anticipate that the Net Income for the Green Lawn Landscaping will also grow proportionately resulting in improving return on equity ratios.
Quick Links:
Go to the Corresponding Template section for this industry.
Go to the Corresponding Questionnaire section for this industry.