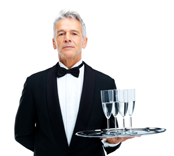 The Industry establishments by number of employees analysis covered in this section gives a very good idea of what the competitive landscape for Green Lawn Landscaping looks like in Allegheny County, Pennsylvania. The pie chart in shows that in the year 2014, of the total 451 landscape contractor establishments of Allegheny County, 360 establishments representing 79.8% of all establishments had between 1 to 4 employees. There were 47 landscape contractor establishments in the County that had between 5 and 9 employees and 26 establishments that had between 10 and 19 employees.
As we look at the larger landscape contractor establishments we find that that there were 15 establishments that employed 20 to 49 employee and only 3 establishments that employed between 50 to 99 employees.
Thus the vast amount of landscaper contractor establishments in Allegheny County actually had less than 4 employees and this is fairly typical of the the landscaping contractor industry. These businesses tend to be one man shows that need 3 or 4 additional staff to be able get the work done. That is of course good news from the perspective of being able to keep the cost down, but there is also a downside - having very few employees can restrict a small firm from being able to bid and take on larger more profitable jobs like office complex lawn maintenance and snow removal. Both Frank and Peter have plenty of years in the business and they will be owner operators, so this should go a long way in keeping the employee payroll costs down to a minimum. They will however be employing independent contract labor as needed on certain jobs to ensure that they have enough manpower during the very busy spring and summer seasons.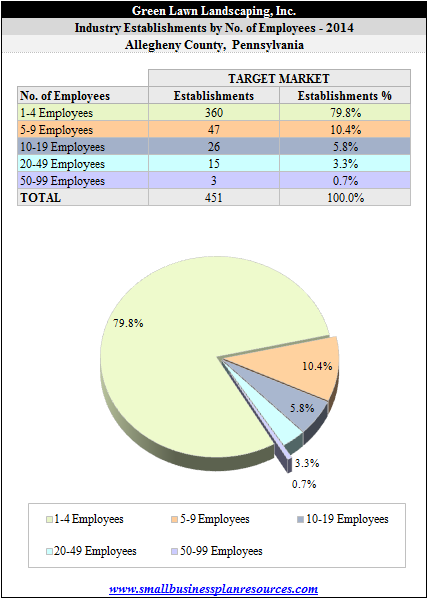 Frank and Peter will also be forging relationships with the few larger players in the County, to be able to partner up with them and assist them with the completion of their contracts and thereby bringing in some additional revenues as well.
Quick Links:
Go to the Corresponding Template section for this industry.
Go to the Corresponding Questionnaire section for this industry.