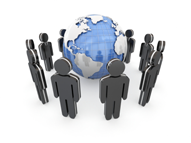 What is the benefit of having the business statistics summary section in the business plan for a Electrical Contractor?
The business statistics summary section of the business plan gives the reader of the plan of a Electrical Contractor a quick summary of what the key vital business statistics are for business conditions in their target market. Just as in the case of our plan for Lights On Electrical, Inc., the business statistics summary table gives the reader a quick birds eye view of the target market of Cuyahoga. While there are other sections of the plan that deal with various details of the target market demographical breakdown in more detail, readers need to get a quick executive summary of what the market looks like as they get into understanding the potential for success of the business the are looking to invest in or partner up with. Our business plan template on business statistics summary does just that.
Why do we need to show the percentage of minority owned firms in Cuyahoga, Ohio?
Economic studies of the changing landscape of our society and business ownership in the United States have shown that there is a very high co-relationship between the ownership of small businesses by minorities and the general health of the local economy. Target markets that show a good diversification in the ownership of local businesses by minorities tend to also have relatively vibrant and well diversified economies with a growing population which is exactly what a lender or potential partner is looking for.
What are the minority business ownership numbers in the case of Lights On Electrical, Inc. being compared to?
In the case of Lights On Electrical, Inc., or any other small business, we recommend that the rates of minority business ownership be compared to the minority business ownership numbers for the state. However if your business is national in nature, you will have to mention national statistics of course. Typically we are finding that women owned businesses will be the higher numbers in target markets closer to the metropolitan areas. Also, as you get into the inner cities of our metropolitan areas, the number of firms owned by Blacks, Asian and Hispanics shows a substantial increase. The reason for that it is thought has a lot to do with the migration patterns amongst Black, Asian and Hispanic families that have tradtionally tended to stay closer to metropolitan areas as opposed to the suburbs and exburbs - recent studies are showing that even that may be changing.
If you are in a inner city target market like say Jackson Heights in Queens, New York, you can expect to find a dispropotionately larger number of small businesses owned by Hispanics when compared to the rest of the state of New York. The reason for this is of course very simple - the Hispanic community has a very significant presence in Jackson Heights, along with the Indian community and other immigrant communities.
What do manufacturers shipments represent in Cuyahoga County?
Manufacturers shipments from Cuyahoga represents the dollar amounts of shipments, new orders (net of cancellations), end-of-month order backlog (unfilled orders), end-of-month total inventory, materials and supplies, work-in-process and finished goods inventories (at current cost or market value). This data is collected in the M3 survey by the United States Census Bureau for Cuyahoga, Ohio and tabulated by the 6-digit NAICS (North American Industry Classification System).
What do the wholesale trade numbers for Cuyahoga represent?
Wholesale trade sales data represented in our business plan for Lights On Electrical, Inc., represents the total sales by firms engaged in the wholesale trade in the target market of Cuyahoga. The wholesale trade sector comprises of establishments in Cuyahoga engaged in wholesaling merchandise, generally without transformation, and rendering services incidental to the sale of merchandise. The wholesale sector for Cuyahoga includes: merchant wholesalers who buy and take title to the goods they sell, manufacturers sales branches and offices who sell products manufactured domestically by their own company, and agents and brokers in Cuyahoga who collect a commission or fee for arranging the sale of merchandise owned by others. This data collected for Cuyahoga only represents establishments with paid employees. Excluded from this sector however are establishments with retail selling characteristics - these are classified under the Retail Trade sector. Prominent examples of such businesses in Cuyahoga that are excluded from the classification into the wholesale trade sector are auto parts, farm supplies and building products dealers and lumber yards.
Generally speaking the higher the number of wholesale trade sales for a target market like Cuyahoga, Ohio, the better the economic vitality of the local economy since it shows that businesses in the target market are doing well. To get an accurate understanding you may even want to compare the wholesale trade sales per capital where you would divide the total wholesale trade numbers by the target market population.
What about Retail Sales - are they as significant for a business like Lights On Electrical, Inc.?
Yes. Retail sales and per capital retail sales are a vital business statistic for the target market of Cuyahoga, Ohio. The reason a business like Lights On Electrical, Inc. needs to understand these two metrics carefully is because a low total retail sales and per capita sales number for Cuyahoga would indicate that the folks in the target either don't have much money to spend or do not spend too much money for goods and services. The later is always possible in a retirement community where the the consumer dollars tend to be spent towards health care as opposed to buying the products and services that the retail industry offers. In the event the demographics don't show an aging population and you still see a very relatively tepid total retail sales and per capital sales number for the target market, it is a sure indicator of a slow local economy as compared to the rest of the State.
The retail sector in Cuyahoga, Ohio comprises establishments engaged in retailing merchandise, generally without transformation, and rendering services incidental to the sale of the merchandise. The retailing process is the final step in the distribution of merchandise; retailers like those in Cuyahoga, are organized to sell merchandize in small quantities to the general public.
Sales in Cuyahoga include merchandise sold for cash or credit at retail and wholesale by establishments primarily engaged in retail trade; amounts received from customers for layaway purchases, receipts from rental of vehicles, equipment, instruments, tools etc,; receipts for delivery, installation, maintenance, repair, alteration, storage and other services; the total value of service contracts; and gasoline, liquor, tobacco and other excise taxes which are paid by the manufacturer or wholesaler and passed on to the retailers of Cuyahoga. Sales are net after deductions for refunds and allowances for merchandise returned by customers. Trade-in allowances are not deducted from sales. Sales do not include carrying or other credit charges; sales (or other) taxes collected from customers and forwarded to taxing authorities; gross sales and receipts of departments or concessions operated by other companies; and commissions or receipts from the sale of government lottery tickets.
Sales for Cuyahoga do not include retail sales made by manufacturers, wholesalers, service establishments, or other businesses whose primary activity is other than retail trade. They do include receipts other than from the sale of merchandise at retail, e.g., service receipts, sales to industrial users, and sales to other retailers, by establishments primarily engaged in retail trade.
What does the Accommodations & Food Service sales for Cuyahoga tell us?
Just like the retail sales numbers, the amount spent in Cuyahoga on accommodations and food services tells us just how much money is being spent on travel and eating out. While this directly affects the hospitality and food industry, it also is very telling about the economic vitality and spending habits of the local consumer. Here again, a business owner like Andy Powell could get even more insight into the local target market of Cuyahoga by dividing the accommodations and food services sales by the population of the county and compare that to a similar number for the state of Ohio.
The Accommodations and Food Services sector comprises establishments providing customers with lodging and/or preparing meals, snacks, and beverages for immediate consumption. Excluded from this sector are government organizations classified in the covered industries and recreation or entertainment facilities providing food and beverage services. The tabulations for this sector in Cuyahoga do not include central administrative offices, warehouses, or other establishments that serve accommodation and food service establishments within the same organization. For example, separate headquarters establishments are reported under the Management of Companies and Enterprises sector for Cuyahoga.
What does the Building Permits section of the template refer to? And why is it important to the readers of the business plan for Lights On Electrical, Inc.?The number of business permits shown in our business plan for Lights On Electrical, Inc. denotes the number of permits that have been authorized in Cuyahoga to build homes. The constructions of new housing units is very important since it shows, just like retails sales and accommodation and food service sales, just how vibrant the target market of Cuyahoga, Ohio is when compared to the rest of the state of Ohio.
The number of Building Permits granted in any target market like Cuyahoga are derived from the New Residential Construction survey conducted
by the United Census Bureau and HUD. Statistics on housing units authorized by building permits include housing units issued in local permit-issuing jurisdictions by a building or zoning permit. Not all areas of the country require a building or zoning permit. The statistics for Cuyahoga only represents those areas that do require a permit. Typically, in a target market like Cuyahoga construction is undertaken for all but a very few percentage of housing units authorized by building permits. A major portion typically get underway during the month of permit issuance in Ohio and most of the remainder begin within the three following months. Thus building permits can be a leading indicator of economic activity for the target market of Cuyahoga.
What does Federal Spending in a target market like Cuyahoga indicate?
The Federal Spending in our business plan for Lights On Electrical, Inc. indicates the total fedeal expenditures or obligations for the following categories: grants, salaries and wages, procurement contracts, direct payments for individuals, and other direct payments, plus coverage/commitments in the form of direct loans, guaranteed or insured loans, and insurance for Cuyahoga. Dollar amounts represent either actual expenditures or obligations. This of course has a direct impact on the local economy and has many repercussions. For example if you have a local economy that has historically been the beneficiary of a lot of federal spending and economic slow down occurs resulting in a cutback in federal spending for the target market, it could dramatically affect the vitality of the local economy. Lets say that you have a check cashing business and large percentage of your customers come to you with checks from the government in the form of aid via various local programs. In the event of a cutback in these programs, you could see your business fall off substantially.
It may also be beneficial to take a look at the federal spending for a target market like Cuyahoga on a per capita basis and compare that to a similar number for the entire state of Ohio.
What is the significance of Sales Tax on a business like Lights On Electrical, Inc.?
Sales tax is the amount of tax that a business like Lights On Electrical, Inc. has to collect on all its products and services that it sells to its clients.This amount if of course passed on back to the State of Ohio. The higher the state sales tax, the less willing folks will be to spend money in the state. In some local target markets, you could also have an additional city or county tax on top of the sales tax. We have noticed that if clients live close to the border to the next state where sales taxes are lower, they will prefer to go there to do their shopping. This can of course have a significant impact on a business located in that area. A clear example of this is the cost of cheap gasoline in New Jersey compared to the State of New York. Most folks who live on the border will most probably buy their gas in New Jersey, where it is cheaper than in New York.
Quick Links:
Go to the Corresponding Template section for this industry.
Go to the Corresponding Business Plan section for this industry.