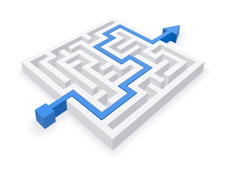 What is an exit strategy and how does it apply to a small business like Lights On Electrical, Inc.?
An exit strategy is quite simply your plans to exit the business or part of the business that you are in. This is the last part of a business plan where a small business owner like Andy Powell get the chance to discuss how and when he or she plans to extricate themselves from the business. This may apply to an owner like Andy Powell directly or it may apply to one or more partners of the small business. Many times there are no plans to exit and the business owner may plan to continue to run the business as a going concern.
Nevertheless, one has to take some time to explain to the reader of the business plan which may be a lender or potential partner, just what the plans are once the objectives of the business plan are met and the business has achieved success.
What if a small business owner like Andy Powell intends to own their own business and have no plans to exit the business - what should they do?
In that case you will have to spell that out in the business plan. For example if you are looking to start a food franchise, deli or restaurant your goals may be to get the restaurant up to snuff and bring in a certain amount of sales over time. Once you achieve that level of success, you may just want to keep the restaurant going without having any further plans for it like selling or expanding it. You can always state that in this section of the business plan.
Why do folks reading the business plan like to see an exit strategy for a small business like Lights On Electrical, Inc.?
An exit strategy applies more directly to a venture capitalist or partner making a loan or investment to a small business like Lights On Electrical, Inc. They are looking for a return on their investment and are trying to figure out just how much they will be making from their investment in your business. The return of their capital is more important to them than the return on their capital. From the point of view a small business owner like Andy Powell how long they plan to stay in the business needs to be very carefully considered. Many business owners like to acquire or start up a business and build them up to a certain point and then sell it to a competitor and move on to doing different things.
One of our clients are specialists in acquiring weak or loss making gas stations and then over a course of 2 to 3 years building it up using their superior managing and marketing skills and then selling it off and move on to the next gas station. Exit strategy's are also very common in the technology world, where very often a small start up will develop a niche product or software with the specific intention of getting acquired or selling the product over to a larger company.
Software development is a classic example - there are many entrepreneurs that develop applications for specific industries and these businesses have no interest in competing with very large competitors but know that as long as they have a viable product that they will be able to successfully take market share and will eventually elicit the interest of their larger competitors who naturally will want to buy them out.
What if a small business owner like Andy Powell does not have an exit strategy?
If you don't have an exit strategy where an exit strategy may seem necessary, then you could leave the reader of the business plan with doubts about having thought through every aspect of your business plan. Again, if an exit strategy is not warranted you may well just add a few lines saying that you see yourself running the business as a going concern and have no intention of leaving the business.
On the other hand in the case of intensely competitive industries, it may not be such a bad idea to include an exit strategy which talks about how a small business like Lights On Electrical, Inc. is priced and that in the event you get a good offer when the business has matured you may well consider selling the business.
Quick Links:
Go to the Corresponding Business Plan section for this industry.