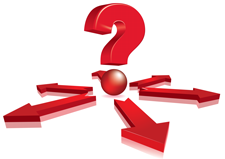 Why do we need a template for Milestones in a business plan for a Electrical Contractor?
The Milestones template is an important business planning tool for small business owners like Andy Powell. It gives them the ability to plan out the 9 most important milestones or achievements that the business will have to achieve in the coming 6 months. This of course gives the reader of the business plan a solid framework of precisely how the business is going to go about to achieve its goals that are laid out in the business plan.
How does this template on Business Planning Milestones work for a business like Lights On Electrical, Inc.?
The template on Business Planning Milestones gives a small business owner like Andy Powell the ability to put in up to 9 milestones in the coming months. You have the ability to enter the name of your company like Lights On Electrical, Inc. and the first date from where you want the template to calculate the milestones We recommend that you begin with a Monday. The template will automatically calculate the date for a total of 28 weeks and thus each row in the milestones will represent one week of calendar time.
Next in the data entry area you can input the activity or milestone, beginning date, ending date and responsible party for each milestone. That's it. Our template will do the rest and a Milestone GANTT chart for the next six months will automatically come to life. We recommend that you click on the output page so you can copy and paste the Milestone chart into your business plan.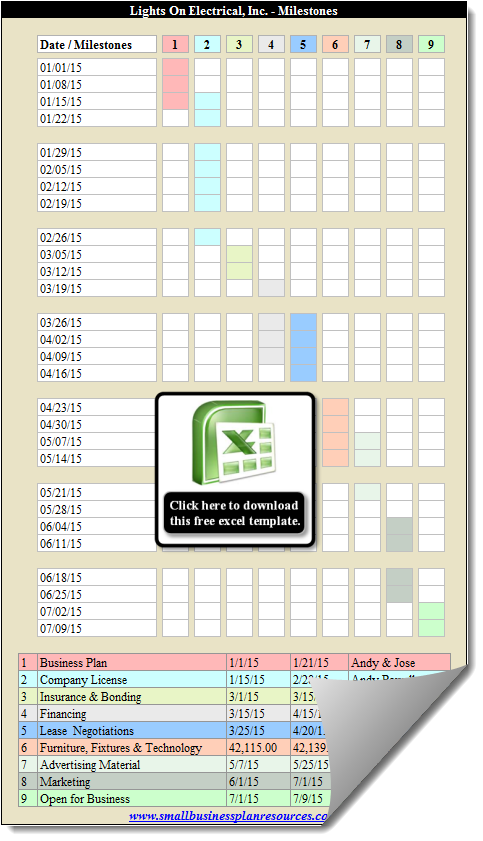 What do the color coding represent on the Business Planning Milestones template for Lights On Electrical, Inc.?
Each of the 9 milestones have been given a separate color to identify them differently from the others and that is how you can use the GANTT chart visually to get a very quick view of what the timelines for your key milestones look like in the coming 6 months. Small businesses find this planning tool to be very helpful and they tend to use it for regular operational planning.
Quick Links:
Go to the Corresponding Questionnaire section for this industry.
Go to the Corresponding Business Plan section for this industry.