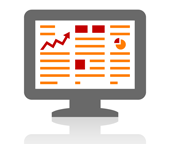 The Debt to Equity ratio is a key ratio that is most widely used in the analysis of financial statements for a small business like Lights On Electrical, Inc. It measures the amount of protection the creditors of the small business have when compared to the amount of equity invested by the owners of the small business. It also shows how much each party has vested in the small business. This is a very significant ratio looked at by potential investors like venture capital firms who want to see not only if there is a return on their capital but if there will ever will be a return of their capital!
We are projecting that the debt to equity ratio for the first three years of our operation will be 0.41, 0.21 and 0.10 for 2015, 2016 and 2017 respectively. This is an excellent progression since it shows a steadily improving equity interest for both Andy and Jose as their business grows. The debt that is referenced here is of course the original loan of $60,000 that will be taken out at the outset. At end of each year the amount of the loan that will be left over is projected to be $49,559, $38,391 and $26,445 - this of course is because the loan amount will kept getting paid down by Lights On Electrical.
As the debt on the books of the business keeps decreasing, the amount of equity in the business keeps on growing as well - this is because both Andy and Jose will be investing the profits from the business back into the shop and thereby increasing their equity. This will also contribute to dramatically reducing the debt to equity ratio to 0.10 by their third year of operation.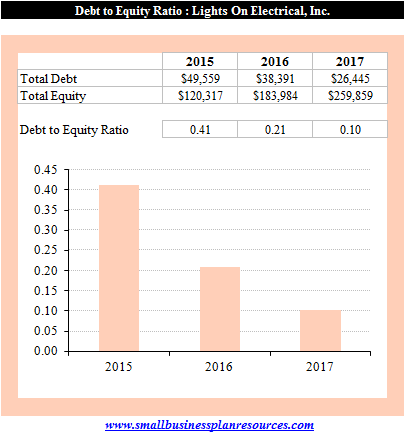 Quick Links:
Go to the Corresponding Template section for this industry.
Go to the Corresponding Questionnaire section for this industry.