The Industry establishments by number of employees analysis covered in this section gives a very good idea of what the competitive landscape for Lights On Electrical looks like in Cuyahoga County, Ohio. The pie chart in shows that in the year 2014, of the total 190 electrical contractor establishments of Cuyahoga County, 102 establishments representing 53.7% of all establishments had between 1 to 4 employees. There were 39 electrical contractor establishments in the County that had between 5 and 9 employees and 26 establishments that had between 10 and 19 employees.
As we look at the larger electrical contractor establishments we find that that there were 11 establishments that employed 20 to 49 employee and another 12 establishments that employed between 50 to 99 employees.
Thus we van see that a little over half of all the electrical contractor businesses in the target market are small shops with less than 4 employees. This is even more self evident when we combine the first two categories of establishments - almost three quarters 74.2% of all the establishments in the County employee less than 9 employees. Lights On Electrical will have less than 4 employees and may later on go on to hire more people as it grows and expands. We also feel that there will be plenty of opportunity to get sub-contracted work from the larger electrical contractors in the business. The one advantage that small shops like Lights On Electrical have over the larger ones is the relative lower operational expenses. Since both Andy and Jose are master electricians, they will be performing the bulk of the electrical contracting work themselves and this will go a along way in keeping the operational cost down and keep them competitive.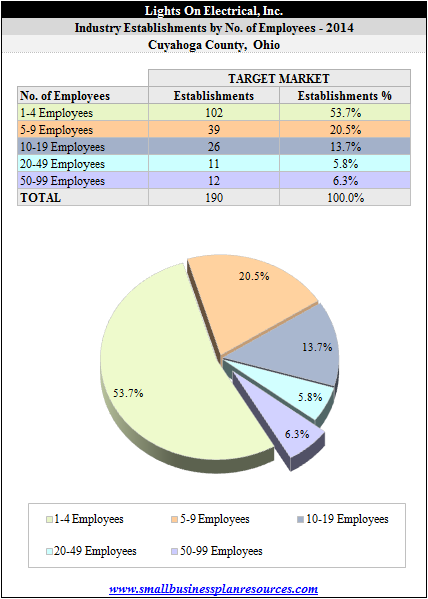 Quick Links:
Go to the Corresponding Template section for this industry.
Go to the Corresponding Questionnaire section for this industry.