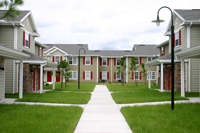 In order to get a clear understanding of the distribution of housing stock by room we have broken down the housing stock into the following categories:
1 Room Units
2 Room Units
3 Room Units
4 Room Units
5 Room Units
6 Room Units
7 Room Units
8 Room Units
9 or more Room Units
For each unit, rooms include living rooms, dining rooms, kitchens, bedrooms, finished recreation rooms, enclosed porches suitable for year-round use, and lodger's rooms. Excluded are strip or Pullman kitchens, bathrooms, open porches, balconies, halls or foyers, half-rooms, utility rooms, unfinished attics or basements, or other unfinished space used for storage. A partially divided room is a separate room only if there is a partition from floor to ceiling, but not if the partition consists solely of shelves or cabinets. Rooms provide the basis for estimating the amount of living and sleeping spaces within a housing unit. These data allow officials to plan and allocate funding for additional housing to relieve crowded housing conditions. The data also serve to aid in planning for future services and infrastructure, such as home energy assistance programs and the development of waste treatment facilities.
The housing stock distribution analysis for Alameda County shows not surprisingly that 76.6% of the housing stock for the County is in homes with 6 rooms or less. That number for the State of California is 76.4% and is thus not that different. Homes with 6 rooms or less tend to comprise the vast amount of the housing stock since they imply homes with 3 bedrooms, a living room, kitchen and dining room. Homes of this size are often in demand and are easier to sell than homes that are smaller or larger. The demand for smaller homes tends to come from folks just starting out in their starter homes and the demand for larger homes tend to come from folks that have larger families and / or are affluent. A healthy stock of homes with 6 rooms or less is a good sign for a real estate office like Home At Last Realty.
This analysis of ours is further confirmed when we take a closer look at the data to find that 20%, 18.8% and 16.4% of the total housing stock of homes is in 4, 5 and 6 room homes. Thus the bulk of the housing stock is in homes that are of the size that are in demand by the buying and selling clientele. The same holds true for the State of California.
Quick Links:
Go to the Corresponding Template section for this industry.
Go to the Corresponding Questionnaire section for this industry.